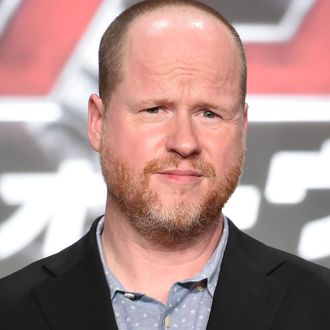 Joss Whedon.
Photo: Jun Sato/Getty Images
A year ago, Joss Whedon spent much of his Age of Ultron press tour talking about how the superhero sequel very nearly broke him, thanks to the push-pull of fitting the movie into the larger Marvel Cinematic Universe. "This was the hardest work I've ever done," he told Vulture at the time, "and at some point, when it's that hard, you just feel like you've lost." But this week, while speaking to Mark Ruffalo at an event for the Tribeca Film Festival, Whedon walked back some of his earlier criticism of the film, saying he was still "very proud" of Ultron. Though he admitted that "there were things that did not meet my expectations of myself," Whedon said he regrets creating the narrative that his bold original vision was watered down by Marvel's corporate needs: "I think that did a disservice to the movie, and to the studio and to myself." In the end, he said, "I got to make an absurdly personal movie about humanity and what it means in a very esoteric and bizarre way for hundreds of millions of dollars."
Reporting by Jenna Reyes.