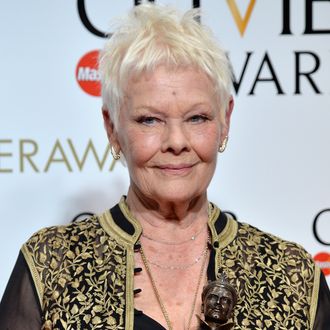 If you are Judi Dench, this is a photo of you.
Photo: Anthony Harvey/Getty Images
Judi Dench now has enough Olivier awards to hold a respectable tea party of metal Laurence Oliviers, if that's what she decides she wants to do with her trophies. Dench won a record eighth Olivier — more than any other actor, alive or dead, in the 40-year history of the British stage award — for her turn as Paulina in a Kenneth Branagh–directed production of The Winter's Tale at London's Garrick Theatre. The 81-year-old actress won her first Olivier in 1977 for her turn in Macbeth. Awards-wise, Dench's only Stateside competition is Audra McDonald, who has six Tony Awards to her name, enough for her to fill a Red Rider wagon and tote them around the city like ducklings. Only if she wanted to, of course.