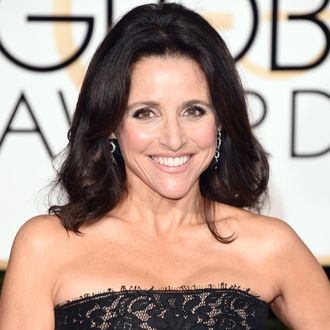 Julia Louis-Dreyfus.
Photo: Jason Merritt/Getty Images
While you certainly know Julia Louis-Dreyfus as a comedic tour de force from Seinfeld, The New Adventures of Old Christine, and, most recently, Veep, you may not be aware that she also spent a few short years as a cast member on Saturday Night Live between 1982–1985. (In fact, it was during her tenure on SNL that she met Larry David. Pretty, pretty, pretty good outcome.) However, in an interview today with the New York Times, Louis-Dreyfus expounded on how she only looks back on her time at Studio 8H as "fondly-ish," due to the show's lack of equal treatment toward women at the time.
"I did not come out of 'S.N.L.' as any kind of name," she says. "I didn't do anything particularly great when I was there. I didn't. It's fine. But I learned a tremendous amount. It was a very sexist environment. Since I've gone back, I can tell you it's much more of an equal-opportunity environment." She did gain much from her late-night experience, though — don't take a job unless it's genuinely enjoyable, for starters. "I was on it for three years, and when I left, I made this conscious decision that I would not take any jobs that didn't seem as if they would be really fun," she continues. "That's very simplistic and Pollyannaish sounding, but really, I noted that. I'm not doing this unless I can have a deep sense of happiness while doing it. I've applied that, moving forward, and it's worked. So in that sense, I have 'S.N.L.' to thank."
Louis-Dreyfus will be hosting SNL this Saturday. Maybe she'll revive the Big Zit sketch?