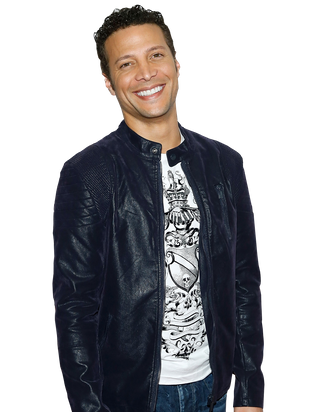 Photo: John Lamparski/Getty Images
When I was cast as Justin Guarini's sibling in Stephen King and John Mellencamp's Ghost Brothers of Darkland County back in 2012, I wasn't sure what to expect. Was he just a smiley guy with a spectacular perm? Could he act? Would I be able to make From Justin to Kelly jokes? (For the record, the answers to those questions are no, yes, and yes.)
Certainly, becoming one of the most famous people in the country for a whirlwind period in 2002 can have an effect on you. Others in his position might have buckled under that pressure, but despite a few bumps in the road, Guarini has managed to maintain a thriving stage career and family life away from the spotlight (he lives outside Philadelphia with his wife and three kids). Since Idol, he has appeared on Broadway in American Idiot, Wicked, and Romeo and Juliet, among others. He's also performed his solo shows to sold-out crowds around the country. On Sunday, he heads to Sweden for a few weeks to record a new album, his first full-length since 2005's Stranger Things Have Happened.
But this week he's back in American Idol's world for the series finale of the behemoth competition reality program along with many of his fellow former contestants. Guarini and I caught up over the phone during a short break in rehearsals for Wednesday and Thursday nights' shows.
How's it going? Are you hiding in the corner of the theater right now?
Yeah, they've been working me like crazy; we've got a whole bunch of rehearsals here today. We're doing it right where we started in what used to be the Kodak Theatre, now it's the Dolby Theatre. The whole 15 seasons has a real nice symmetry to it because we're all ending up right where it began, which is cool.
How would you describe the experience so far? Has it been surreal, or fun, or weird, or some combination of those things?
I feel like I'm part of a living time capsule. You know in school when you dug up the time capsule you put in the ground like 15, 20 years ago? I literally feel like I'm doing that, but inside the capsule we're all different people.
And everyone's aged in different ways.
We've aged really well! Everyone's doing well. It's absolutely surreal. But it's a cool perspective for me because I was there from the beginning when the budget was like $5, and now it's pretty extraordinary — to be here for a thing that not only influenced American pop culture but the world. It really influenced the whole world.
Rewatching the special last night, it's pretty wild to see people's personalities and appearances sort of shift and evolve over the years. I always forget Carrie Underwood was literally straight off of that farm.
Yeah, a lot of styles have changed pretty drastically. You usually don't get to see the evolution of an artist that close and personal. That's one of the crazy things about Idol. You see us all from the very beginning.
You kept in touch with quite a few people from the show, didn't you?
I think when you do something like this, it's like you're in a really exclusive club. And you end up seeing people out all the time. Nowadays it's impossible not to run into people who were part of it, part of the whole machine. A lot of people kept in touch, and I now know so many of the people from other seasons. It's like a high-school reunion except I actually like everyone. [Laughs.]
Everyone has had different career trajectories since the show ended. Despite varying levels of traditional "success," does everyone seem happy overall?
I think so. The people that are here, for this event, they're some of the more known and more successful Idol contestants, so I think, yeah, everyone seems happy. Nigel [Lythgoe, former Idol director] was telling us last night, "When you go out on this stage you represent everything Idol has done, not only for your lives but also the lives of people all over this country." And that's a pretty pervasive through line for this finale. We really are there to celebrate how big a change this has made in all of our lives.
I know you had certain issues with the Idol brand and the hold that it had on you for many years after the show ended. Do you think people are grateful even though they felt trapped or thrown out to sea at certain times?
With any big organization you're going to have things that fall through the cracks. That's just the nature of the beast. But I can say that I have, personally, been at the top of the mountain, and I have rolled all the way down the hill to the bottom, you know? And now I'm somewhere in between. But that experience of having those extreme highs and lows has made all the difference in my career. So I'm eternally grateful for Idol, really.
Have people been making annoying references to your formerly enormous hair?
No, actually! It really hasn't been that much. But honestly, you can't buy branding like that. You really can't. It's not annoying for me, but it's fun watching people do double takes. You know, some of these people haven't seen me in 15 years, some of the crew and other contestants, so it's been fun to see the reaction.
You really do look about 14 years old in some of those old clips.
We all do.
You saw the Kelly Clarkson "Piece by Piece" performance. That was pretty unreal.
Yeah, it was amazing. She's amazing. I mean, she really represents everything Idol is. That moment was just perfect.
It should be known: You also play that '80s hair-metal guy in the Diet Dr. Pepper commercials.
Lil' Sweet. Yeah, I just shot three that are airing now. They're just ridiculous. I've shot like five or six of them, and about nine internet videos as well.
I like seeing those commercials, because you do have this darker, weirder sense of humor that people don't often get to see.
Yes, you've definitely seen that.
Do people know that it's you?
Some people know right away. Others have no idea. Some of the Idols were like, "Wait, you're Lil' Sweet?!" and laughed about it. With those commercials there's a pretty good separation of church and state for me, since I can kind of disappear into it.