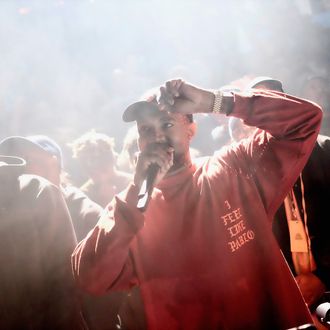 I feel like Pablo when I'm working on my streams.
Photo: Dimitrios Kambouris/2016 Getty Images
Let's just say that streaming numbers for Kanye's latest album have been anything but ultralight. Though it was released on February 13, Kanye West's The Life of Pablo didn't come off of Tidal until April 1, where the lack of streaming data kept it off the chart. That's no matter for Kanye's career, however, as The Life of Pablo earned 94,000 equivalent albums in its first week of eligibility, debuting at the top of the charts eight weeks after its actual release. Of that sum, 70 percent (or 66,000 units) came from streaming equivalent albums, which the Billboard 200 first started counting last December. TLOP had the largest percentage of streaming sales of any No. 1 chart topper yet. Though TLOP hasn't sold any physical copies, the other 28,000 units came from digital sales of TLOP on Tidal and West's website, and from albums sold with tickets to Kanye's Madison Square Garden livestream. This is also Kanye's seventh consecutive No. 1 album, after Late Registration, Graduation, 808s & Heartbreak, My Beautiful Dark Twisted Fantasy, Watch the Throne, and Yeezus.
Kanye celebrated the news in typical fashion, with a tweetstorm and an unconfirmed promise to take The Life of Pablo on tour: