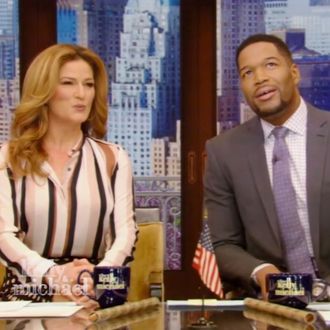 If you wanted a roiling feeling of anxiety and dread in the pit of your stomach, you'd get it from a cup of coffee like you do every morning, thank you very much. According to TMZ, things are not great at Live! With Kelly and Michael today after Kelly Ripa declined to show up to Wednesday morning's taping. Ana Gasteyer stepped in as co-host. The Live! host's decision was allegedly not a response to Michael Strahan's plan to join Good Morning America itself, but a response to the fact that Ripa was not told about his decision before it was announced to the public. Ripa may be planning to miss more tapings in the near future. The entire story is uncomfortable enough to make your heart race and your hands shake uncontrollably. Wait, no, that's also from the coffee. Why do we drink this poison again?
Update: According to People, the network isn't sure how long Ripa's walkout will last. "Kelly told ABC she wasn't coming in last night," a source said."They don't know yet when she'll be back." Another claimed she was "refusing to come back." A rep for Live!, on the other hand, claimed Ripa "had the day off."
Update No. 2: The New York Times reported Wednesday night that sportscaster Erin Andrews will replace Ripa for the rest of the week, doing a double taping for Thursday's and Friday's Live! editions. Though one of the Times' unnamed sources said Ripa is angry with ABC for favoring GMA over Live!, a statement from ABC read:
Live! continues to be a vibrant and enduring franchise under our lead host, the extraordinarily talented Kelly Ripa. Live! has successfully transitioned co-hosts twice before and will do so again. Together with Kelly, ABC and the Live! team will begin a new search to find a replacement for Michael.
Additionally, Pretty Little Liars actress Shay Mitchell will sub in on Monday, because Ripa is taking an extended weekend to celebrate her wedding anniversary.