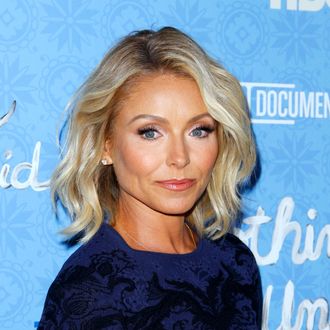 Photo: Donna Ward/2016 Donna Ward
Kelly Ripa, co-host of the popular Live! With Kelly and Michael alongside Michael Strahan, will officially be returning to the show on Tuesday. Ripa's walkout — which began when she declined to show up for the taping of Wednesday's show — was spurred by Strahan's sudden announcement that he would be leaving for a full-time gig at Good Morning America in September. She was allegedly not informed of the move before it was announced to the public.
In an email obtained by the New York Times, Ripa confirmed her return:
(Sorry for this late Friday night email). I wanted to thank you all for giving me the time to process this new information. Your kindness, support, and love has overwhelmed me. We are a family and I look forward to seeing you all on Tuesday morning. Love, Kelly.
Ana Gasteyer and Erin Andrews filled in as co-hosts this week, while Pretty Little Liars' Shay Mitchell will be given the co-hosting duties on Monday. In the meantime, can someone get Abbi and Ilana on the phone?