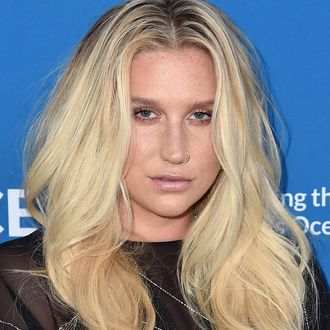 Kesha.
Photo: Alberto E. Rodriguez/Getty Images
Kesha has hit another major roadblock in her fight to be freed from her contract with Sony and Dr. Luke. According to The Hollywood Reporter, a judge has thrown out several claims of abuse against Dr. Luke following a previously denied injunction and Kesha's subsequent appeal. The judge has refuted Kesha's claims that forcing her to continue working under her alleged abuser is akin to a form of slavery, claiming that, in rejecting Sony's offer to work with other producers without Dr. Luke's direct involvement, Kesha is acting "unreasonably." Kesha recently revealed that she also rejected an offer of freedom that would've required her to issue a public apology and recant her allegations of rape against Dr. Luke. In an even bigger blow, the judge has thrown out Kesha's claim that she is a victim of a hate crime, citing lack of jurisdiction and physical evidence. "Insults about her value as an artist, her looks, and her weight are insufficient to constitute extreme, outrageous conduct intolerable in civilized society," the judge writes.
Following this latest decision, Kesha may either have to continue her fight in Los Angeles court (where a separate lawsuit against Dr. Luke is pending and currently on hold) or carry on her injunction in New York with only one lesser counterclaim remaining. The judge's closing statement: "Every rape is not a gender-motivated hate crime."
This post has been updated throughout.