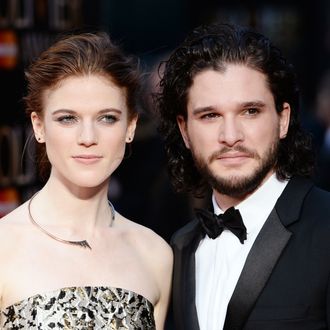 Rose Leslie and Kit Harrington.
Photo: Jeff Spicer/Getty Images
Game of Thrones's Kit Harington and Rose Leslie have been outed as a super-cute couple after they were seen kissing on the red carpet at the Olivier Awards in London yesterday. As George R. R. Martin probably once wrote in at least one of those books, "Once you're caught smooching, there's no turning back." Harington and Leslie, who play Jon Snow and Ygritte on GoT, were supposedly a thing in 2012, but it was reported that the romance ended later that year. Since January, the two have been showing some PDA once again, but nothing was officially confirmed until Sunday. As their co-star Emilia Clarke told Entertainment Tonight, "I mean, there are worse things than being caught kissing Jon Snow!" True story.