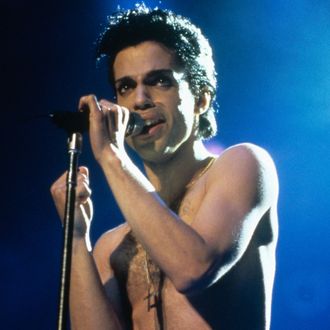 Photo: Ross Marino/Sygma/Corbis
The last music purchases Prince made were eminently cool, of course. On Saturday, the late musician visited the Electric Fetus in Minneapolis in support of Record Store Day. Here are the six CDs he bought:
1. Stevie Wonder, Talking Book
2. Chambers Brothers, The Time Has Come
3. Joni Mitchell, Hejira
4. Swan Silvertones, Inspirational Gospel Classics
5. Missing Persons, The Best of Missing Persons
6. Santana, Santana IV
The store's retail music manager Bob Fuchs said that they sold out of Prince merchandise two hours after the news of his death broke. Prince was selling his Piano & a Microphone concert program at the store, and his last tweet was a link to the store's website. The fact that Prince was supporting a local record store makes us love him even more, if that's possible.