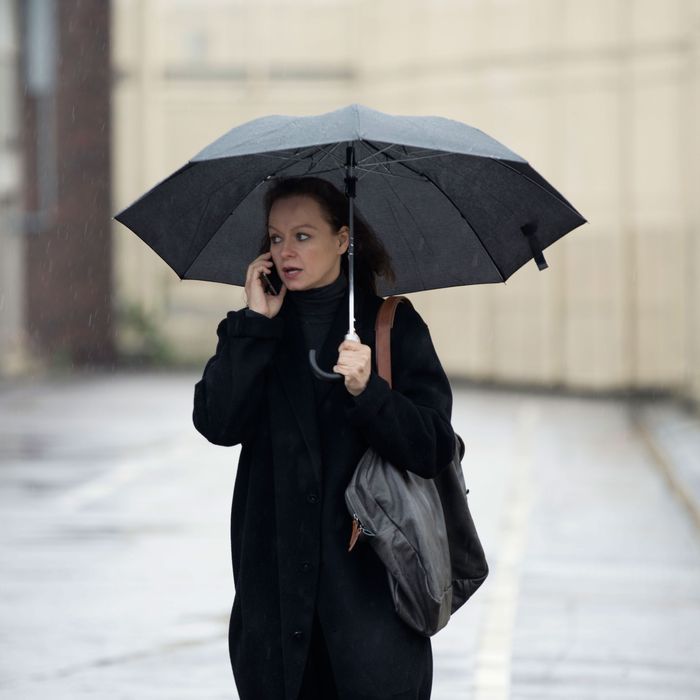 Samantha Morton as Naomi.
Photo: Stephane Remael/Sundance/Sky UK Ltd
In the second episode of The Last Panthers, our three central characters are pulled deeper into their own grim histories. The past is past, but it still plays a role in the present. In one arc, a French cop becomes an enforcer in a tenement where he once lived. In another, a diamond thief is pulled back into the life of crime he had left behind to save his brother. Finally, an investigator is given a way out of a case that has resurrected ghosts for her, but she heads right back into the heart of darkness. Each character is trying to burn bridges or rebuild ones they previously torched.
We open in Les Agnettes, a notoriously dangerous housing estate in Marseilles. (For more on the region's violence, read this fascinating article.) Kahlil (Tahar Rahim) is leading a raid on a place he once called home. They're tracing the guns from the diamond heist. As tense music plays, we see shots of men in SWAT gear filing up to the raid. Elsewhere, Naomi (Samantha Morton) washes the blood out of her hair after last episode's ambush, and the team searches apartment by apartment for evidence of the gun trade. At the same time, Milan (Goran Bogdan) is in the hospital at his brother Adnan's bedside. Director Johan Renck deftly brings us back into all three plotlines in these tense opening moments.
Naomi comes downstairs with a bruise on her face, and we learn that she's in her own place, airlifted out of Belgrade after the attack. Tom (John Hurt) is in her kitchen, making breakfast, and singing "Major General" from The Mikado. Naomi's kitchen reveals a lot about her character — cold lines, blank walls, neon lights. She's off the case, and someone else is now running point. They've identified the men behind the raid, including Milan, the one who survived and let her live. She's on trauma leave until she "feels de-traumatized, I guess." Yeah, that's how it works. They know that the notorious Dragan Tosic (Boris Isakovic) is the mastermind behind the raid, even though he's behind bars. They're determined to find Milan, figure out what happened to Naomi, and recover the stolen diamonds.
The Last Panthers is full of interesting cuts, and in the one that follows, we jump from a man who broke into Naomi's house, to another kitchen that's being raided by Kahlil's team. They're looking everywhere, but finding no guns. A dryer gets thrown out a window onto a cop car. It's basically turning into The Raid. Kahlil and his team hear suspicious activity in a nearby apartment. Could someone be moving the guns in there? Although they don't have a warrant, they decide to break in anyway … and find an old couple lying in bed. She seems scared. Are they prisoners? Collaborators? Kahlil finds guns under the bed and a guy jumps out of the closet. Shots are fired. Kahlil takes one in his bulletproof vest.
We see Milan spending time with his brother, a reminder that he's the diamond thief with a heart of gold. To drive that characterization home, we flashback to when they were kids, so poor that Adnan would joke about flipping a coin to see which brother would eat the other. Milan has always protected Adnan; he does what needs to be done. After another flashback in which a young Zlatko brings Milan into the Panthers, we see them in the present day in an all-white room. Zlatko is a bit dramatic. He's done with high-risk, low-reward crimes that involve guns and drugs. He wants to bring the Panthers into the modern age. He'll give Milan the money to help his brother, but it'll come with conditions. This is not the kind of guy you want to owe a favor.
Naomi trades some of her information for Interpol's case file on Dragan, but only gives them two of the three names. She clearly knows Milan from her past, and holds back the file on him. Information is a commodity in this world. So why is Naomi protecting Milan?
Meanwhile, Kahlil is interrogating the couple from the shooting at Les Agnettes. They claim the guy with the guns entered two minutes before the cops, stashed the bag under the bed, and hid in the closet. There's no sign of a struggle or break-in, so Kahlil is suspicious. He thinks they're in on it. Some scenes in The Last Panthers feel a bit dragged-out, and this is definitely one of them. They clearly helped the guy. We soon learn that Kahlil even knew this couple when he lived there. In many ways, Kahlil's arc is that of a man whose past is invading his present. To the people who grew up with him, he's a rat — the man who left them in poverty, then returned to take them down.
Naomi meets with Dragan in prison. When she asks if he recognizes the photos of the diamond thieves, he doesn't even look before saying no. We learn that Dragan was jailed with Milan, but it doesn't look like Naomi is going to get much out of him: "Panthers don't talk. Panthers have never talked. Why would you ask me some stupid questions?" She'll need a new tactic.
In an unexpected twist, we learn that Zlatko (Igor Bencina) is taking a leaf out of Tony Soprano's book, getting contracts and business related to new construction. Guillaume (David Dencik, a great actor who can be seen in Men & Chicken with Mads Mikkelsen) is building an airport in Belgrade. The Panthers will run security and get a piece of the action. When they meet with Guillaume, though, it goes poorly. Guns are drawn. Zlatko offers 2 million euros, but he can't just wander across the border with cash. Thinking quickly, Milan suggests diamonds. They're much easier to transport.
The Marseilles police find blood stains from the apartment shootout. They now know that the couple weren't victims; they were collaborators. It's too late for them. As Dragan's room is raided and they find his phone, beating him up in the process, the arms-dealing couple is brutally murdered. They're left on the side of the road for Kahlil to find. It's a message: Get close to us and we'll kill people.
Dragan gets the message sent by Naomi, too. She has his phone. He called three numbers on the day of the raid, one in Marseilles and then two in Serbia. He makes an offer: For the names of the men who just beat him up, he'll give up where the diamonds are likely to go next. Turns out they're being transported in the body of a dog, given to Guillaume at the airport. Finally, Khalil gets a note that includes the gym card of the dead man from the side of the road and a reference to his role as "The White Knight of Les Agnettes." Will he get the message?
Other Notes:
Clearly, The Last Panthers will be closer to a six-part film than a limited series like Fargo or The People v. O.J. Simpson, which often have episodically contained plots that pick up days or weeks after each other. This episode picked up immediately after the end of the last one. I suspect part three will continue suit.
The editing on The Last Panthers is some of the best on TV, particularly during the first ten minutes of this episode. It perfectly balanced Kahlil's raid, Milan in the hospital, and Naomi's meeting.
On that note, you have to admire the show's willingness to jump between three characters who do not interact in this episode and have nearly equal screen time. It's remarkable that we never get lost between story threads. At least not yet.