America awakened this morning to a delightful little promotional product: the first teaser trailer for the Gareth Edwards–directed Rogue One: A Star Wars Story. We'd known about the movie's existence for a while and had been spoiled on the basic contours of the story: In a period before the beginning of 1977's A New Hope, Felicity Jones leads a rag-tag group of misfits to steal the plans for everyone's favorite mass of non-moon machinery, the Death Star.
So what did the teaser reveal? To quote Princess Leia in Return of the Jedi: just images, really; feelings. But oh, what feelings they are! Let's look at the moments that contain the most nostalgia, intrigue, and/or actual information.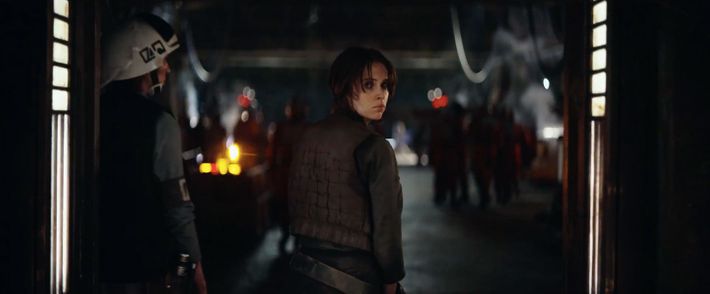 We begin with Jones's character, Jyn Erso, being escorted around what appears to be the Rebellion's base on Yavin IV, which is where much of the action took place in the latter portion of A New Hope. A piano tinkles out a rendition of the Force Theme (could Jyn be Force-sensitive?). Jyn's in handcuffs and someone (I believe it's whoever Alistair Petrie is playing) is reading off a list of criminal charges against her.
But given that one of the charges is "forgery of Imperial documents" and the dude reading them off is probably a Rebel, perhaps these aren't charges made by the Rebels, but rather ones that came from the Empire. So maybe the Rebels see them as a kind of street cred? That said, the cuffs seem to imply that, even if they admire her lack of respect for Imperial law, they're still a little worried about her propensity for troublemaking.

"On your own from the age of 15," says a robed woman with a truly badass set of gold chains around her neck. "Reckless, aggressive, and undisciplined." (Okay, we get it, Jyn's a rogue … perhaps the number-one rogue?) This classy figure is Mon Mothma, the leader of the Rebellion during the events of the Original Trilogy (though we've only ever seen her in Return of the Jedi and in deleted footage from the prequel film Revenge of the Sith).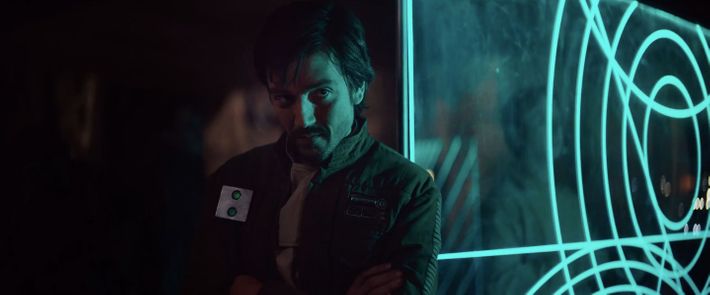 Diego Luna, his character unnamed, smolders oh-so-sexily in Rebellion headquarters.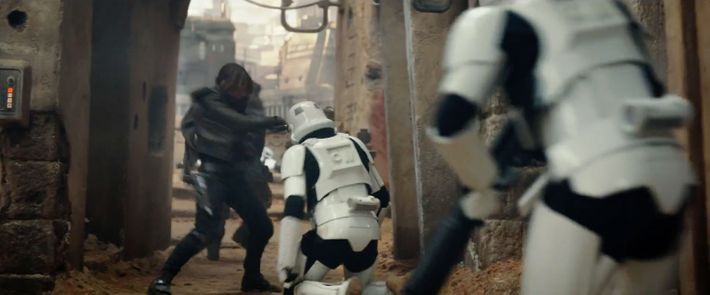 We see Jyn beat up some Stormtroopers in a stone-and-dust-laden alleyway. It looks like Tatooine's Mos Eisley, but I highly doubt they'd set anything in this movie on that planet. The Force Awakens may have been heavy on nostalgia, but it was pretty careful about not throwing us back into any pre-existing settings. Plus, the backdrops look like they're more crowded with tall-ish buildings than Mos Eisley was.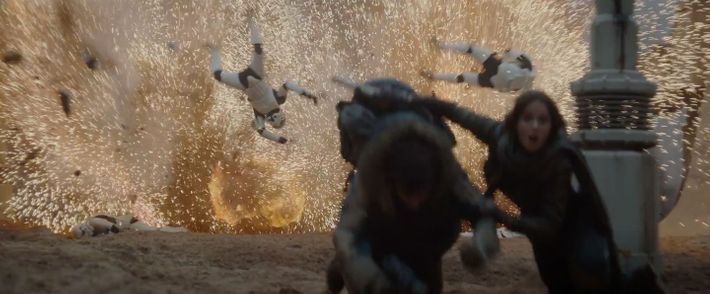 Some Stormtroopers go flying in an explosion, much as they did during Finn and Poe's escape from the First Order in The Force Awakens. I'm so here for the new hotness of tossing around Stormtrooper stuntmen in high-wire silliness.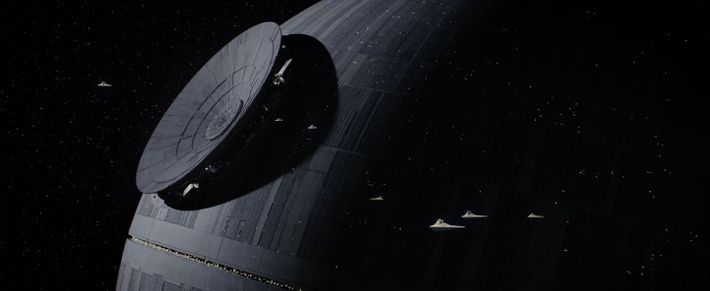 This is, of course, the first Death Star, here seen under construction by what are no doubt overworked and underpaid independent contractors. They're installing the big ol' dish out of which the world-destroying laser shoots. "A major weapons test is imminent and we need to know what it is and how to destroy it," Mon says. Perhaps there was a test planet the Empire blew up before Princess Leia's beloved Alderaan? Some kind of guinea-pig planet? Maybe populated by giant guinea pigs?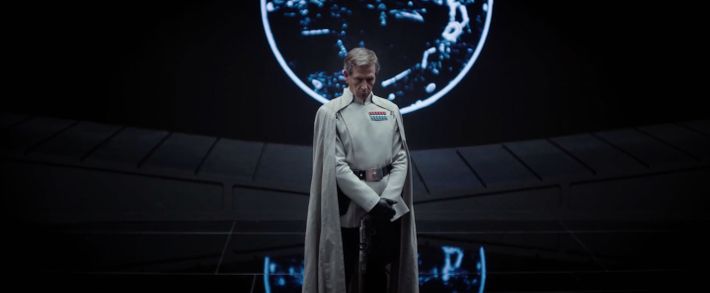 A tense montage begins while we hear what sounds like a higher-pitched version of the classic Death Star alarm klaxon. There are several extremely rad shots in the montage, the first being this one of what I believe is actor Ben Mendelsohn in high-ranking Imperial garb (where can I buy that goddamn cape, man?). He's aboard what might be the Death Star, holding some kind of blaster, scowling, and generally looking slick as hell.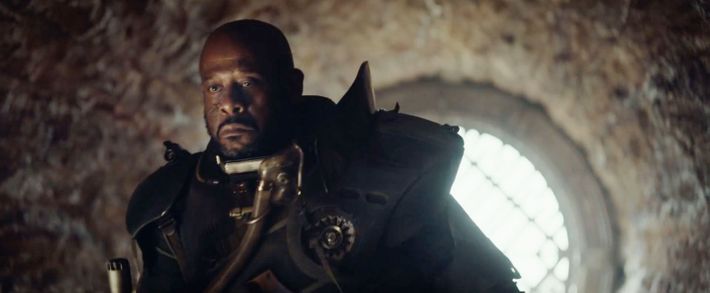 Cry havoc and let slip the Ghost Dogs of war — it's Forest Whitaker, everybody! He's walking around what appears to be the same stony planet where we just saw Jyn a few shots earlier. He's wearing makeshift armor, the most interesting bit of which is what looks like some kind of respirator mask. Is the air bad around those parts?
He provides the Obi-Wan-ish narration that overlays the rest of the trailer: "What will you do when they catch you? What will you do if they break you? If you continue to fight, what will you become?" Like many pieces of classic Star Wars dialogue, these words are as ominous as they are vague.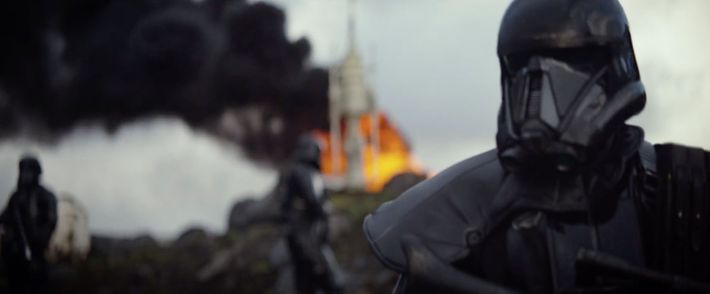 We haven't seen this kind of black-clad Stormtrooper before, I don't believe.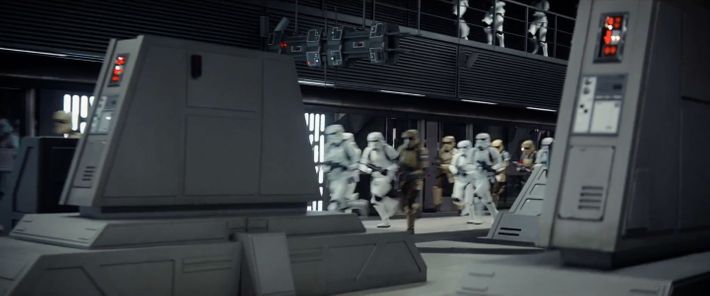 Nor have we seen these tan troopers. They (and Jyn, in the shot right before this one) seem to be racing around the Death Star, based on the décor.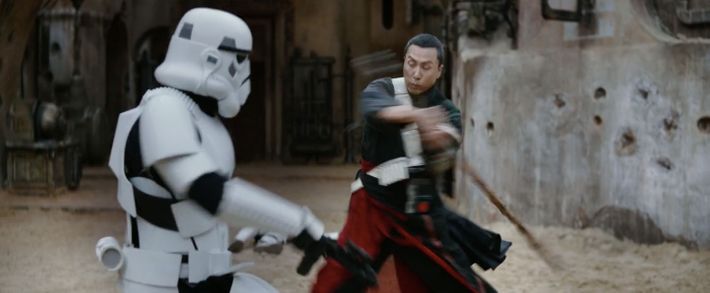 Oh shiiiiiiiiiit, it's Donnie Yen! Unlike the criminally wasted actors from The Raid who popped up in The Force Awakens, Yen will actually get to do martial-arts stunt work. Why aren't the Stormtroopers just shooting this stick-wielding man? Perhaps they've accepted that they never hit their targets anyway.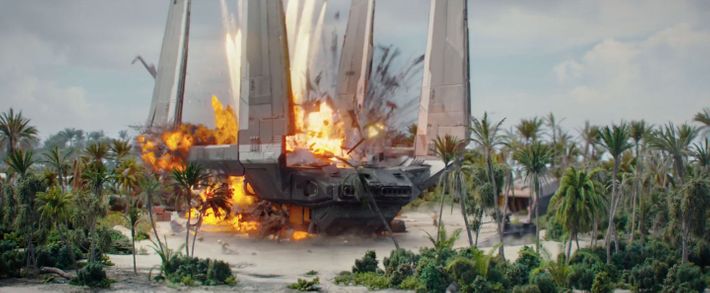 Now we're on some kind of tropical planet (maybe it's also the stone-filled one, but in a rural spot?) and a ship that looks a lot like some kind of doubled-up version of Kylo Ren's shuttle from The Force Awakens is blowing up.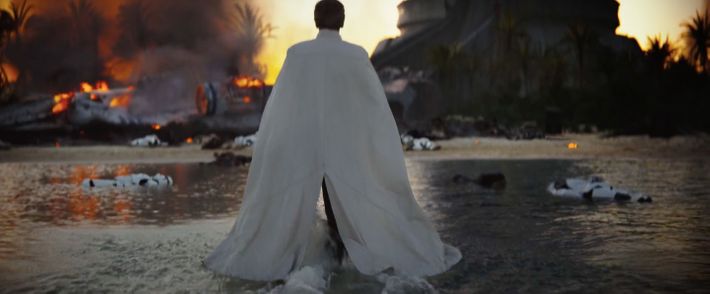 Okay, I think this is the raddest bit of the trailer. That Imperial muckety-muck from earlier is walking around at sunset toward a bunch of flaming wreckage, surrounded by dead Stormtroopers, and absolutely not giving a frick about getting the bottom of his cape wet.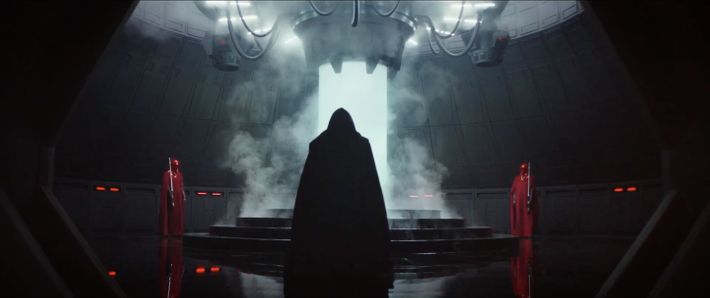 Ooh! Ooh! These red fellows are the Emperor's Royal Guard, first seen in Return of the Jedi! Someone in black is walking toward a glowing tube that they're guarding. Might we get a cameo from the Galaxy's wrinklinest supreme dictator? The black-robed figure doesn't look like Darth Vader at all, but could it be some kind of Sith-ish person we've never seen before?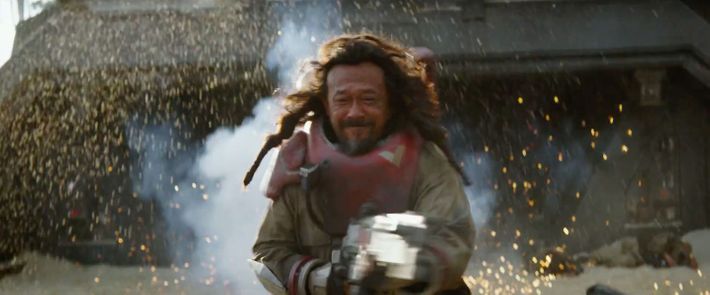 "Jiang Wen in Rogue One" is my new hair aesthetic.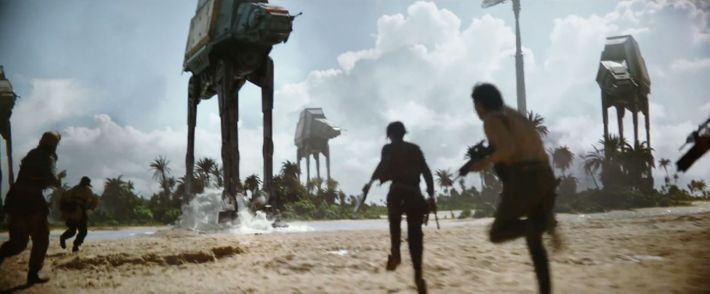 These are AT-ATs, the elephantine Imperial vehicles most famously seen during the Battle of Hoth in The Empire Strikes Back. The first "AT" stands for "all terrain," and that includes the palm-treed tropical clime we saw a few shots ago. These AT-ATs have a different color scheme than the ones from Empire, though. Jyn is double-fisting laser guns, which makes her a little better-matched against giant death machines, but only marginally.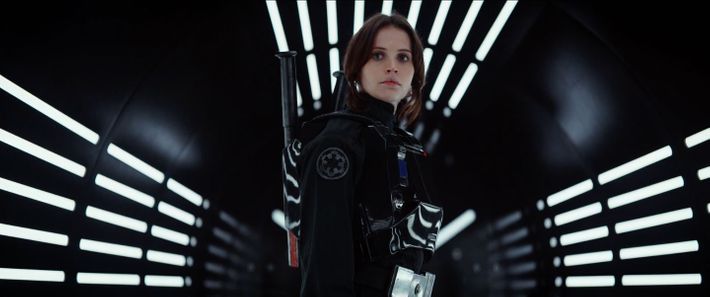 Okay, I take it back — this is probably the raddest bit in the trailer. Jyn is wearing a black outfit that bears the Imperial insignia, albeit a kind of outfit we haven't seen in Star Wars before. Given that Whitaker is asking, "What will you become?" perhaps we're supposed to suspect that she's gone turncoat and joined the bad guys? Or maybe she's undercover? Since we're asking questions: Where the hell is Mads Mikkelsen? Or Alan Tudyk? Only after we wade through a sea of frothy-mouthed cosplayers at opening night on December 16 will we find out.