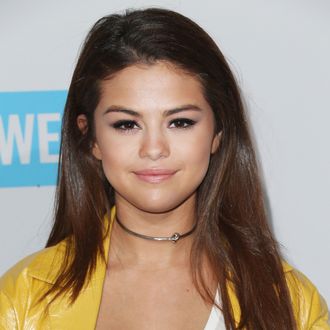 With an inevitable cameo from James Franco as himself.
Photo: Frederick M. Brown/Getty Images
A rare secret fact about fame: When you pass a certain threshold, Hollywood starts developing a drama about your life. It's reflexive, like the way some people sneeze in direct sunlight. Selena Gomez, in this case, might be getting this distinction in the form of a TV series from Lifetime. The network has referred to the project, still in development, as "autobiographical," because it's executive produced by Selena Gomez (and Kevin Spacey, apparently), but it isn't, because Selena will not play herself. The series will focus on the "young actress' experience navigating a career in Hollywood as seen through the eyes of her friends," according to Deadline, which also compared it to Entourage (if Gomez is Vince, who is Taylor Swift?). The project still needs a writer brave enough to tackle the Bieber years and a lead actress capable of looking younger than the most baby-faced human on the planet.
*Lifetime has clarified that the project in development is a TV series, not a movie, as first reported.