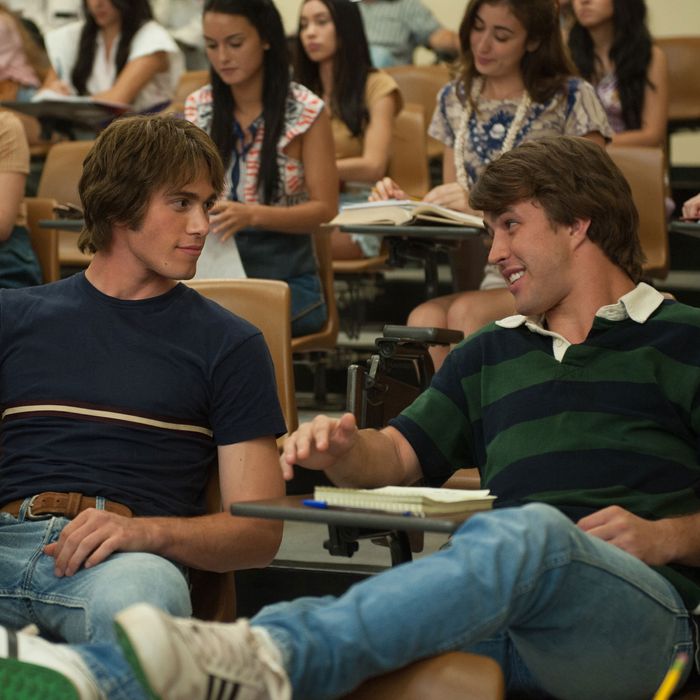 Photo: Van Redin/Paramount Pictures
We've called Richard Linklater's latest film Everybody Wants Some!! accidentally gay, and almost a gay porn film based on the looks of the trailer alone. It's an observation that has confused at least one member of the cast. "Everyone keeps saying it's erotic, the way I'm posed in one scene on a couch," actor Tyler Hoechlin remarked. I literally sat down and I was like, 'How fucking lazy can I look right now?' It's not an erotic pose!"
But could the way Hoechlin is draped, the way his co-stars are on display, the way the camera caresses their bodies, all be completely inadvertent? Was none of it by design? As it turns out, Linklater actually did intend for the film to have subtle homoerotic elements. We started talking about this during a recent party at Avenida Cantina, next to the restaurant's mural of Matthew McConaughey's Dazed and Confused character — perhaps a model for some of the guys in Everybody Wants Some!!?

A little bit, but less creepy, Linklater insisted. "I think there are some early shots, like when we're driving with Jake's [Blake Jenner] character, it's all male gaze. Have you noticed it's an all-girls school?" he joked. "It's amazing Jake showed up! That's how it feels." But then the male gaze — usually defined as objectifying women — opens up to include gay men, because of the way athletes present their bodies, preening and posturing. "It goes back to ancient Greece," Linklater noted. "Those early Olympics were performed in the nude."
Modern-day sports, not so much. But then there's the locker room, where everything is on display, sometimes playfully so. "There is an element, where you're in the shower together, and you're all whipping each other with towels," actor Wyatt Russell said. "It's part of the bonding process, a male bonding in athletics that's hard to get anywhere else."
Even without a locker-room scene, Linklater knew he would be capturing that aspect of the male dynamic, and that certain audiences might appreciate it. ("It's cool that gay men like our movie a lot," he said.) One of the director's biggest mentors was the late film critic George Morris, who wrote for the Austin Chronicle and died of AIDS in 1989. Linklater and Morris often watched movies together, and argued about movies together, at Morris's legendary parties that included the Chronicle gang, Austin Film Society, various academics, and members of bands like the Butthole Surfers.
"He was kind of Andrew Sarris-like," Linklater said. "And he would interpret every movie through a gay lens. He could find the gay subtext or the gay view in anything, and he would let me see that. So he opened up a world to me that I hadn't known, and that I was lucky to be privy to, but I've never forgotten. Still, to this day, I look at films and go, 'Oh, George is going to love this.' I always kind of felt like George would like these guys in this film, because it's in there. It kind of speaks for itself."
That's why, Linklater says, he finds it "a little funny" when people interpret his movie to be "inadvertently gay, as if it were made by a frat boy who has no idea." He chuckled. "I've been around a long time. Not inadvertent."
There's a homoerotic undercurrent to Dazed and Confused as well, he added, although that one might have been more accidental. It never crossed his mind until the script supervisor on set told him, 'I love all the homoerotic stuff!' "And I was like, 'What are you talking about?'" Linklater recalls. "And he said, 'All the guys obsessed with young boys' butts. The paddles.' I hadn't really thought of it that way, but maybe so. I mean, he's got his ass right up in the air."