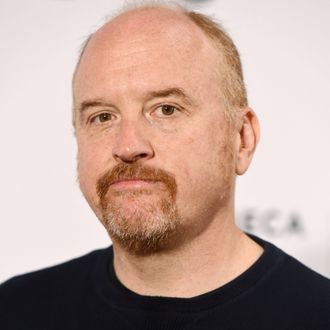 Some dude who has access to money.
Photo: Noam Galai/Getty Images
Don't worry, Louis C.K. isn't broke. He went millions into debt on Horace and Pete, but, to be clear, he is "totally not broke." See, even though C.K. spent so much money on his show, he owns the show. "It's an enormous asset," he explained on The Bill Simmons Podcast, "and it's mine forever." Like most TV shows, Horace and Pete was built on a model where the creators take on debt and only make money much further down the road. The same thing, he pointed out, happens with Louie on FX. Plus, Horace and Pete still stands to turn a profit by C.K.'s estimation, as people are still buying episodes. "While we're sitting here, it's selling and selling and selling," he joked, later explaining that he's "over halfway paid off the bills for the show at this point." Eventually, he plans to sell the rights to other outlets, which will provide yet another income stream. When C.K. went on Howard Stern and claimed the show wasn't selling as well as he had planned, "I said it a little dramatically, because it's Howard and he's fun to talk to — we were making fun of me for not working hard to be a rich person." Now, he admits that the cycle of "Louis C.K. is broke" headlines actually boosted sales of H&P. C.K., you sly businessman fox in slacker-sheep's clothing, you know what you're doing.
As for the show's ending, C.K. wants to make it clear that Horace and Pete wasn't canceled, but had simply reached the end of its arc, story-wise. Now, you can buy the whole thing in one complete 10-episode package and make those "Horace and Pete made Louis C.K. broke" headlines truly wrong, because then he won't even be in debt at all. He'll thank you later, like when he's actually out of debt.