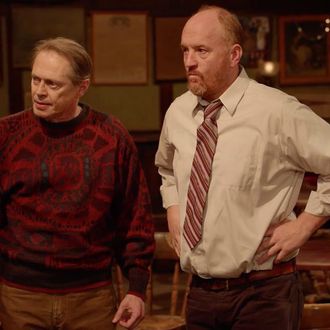 Louis C.K. confirmed today via a mass email to fans that Horace and Pete is now over: "Hi. So. That was it. I didn't want to say, in the last email, that it was the last episode. Because I didn't want you to know, as you watched the episode, that it would be the last one. But yeah, obviously, That was it." The show put him millions of dollars in debt, though maybe that's not a big deal, but it certainly says a lot about modern consumers of television not wanting to pay for their entertainment. The comedy drama was more comfortable with silence than any other show in recent years, but C.K. is totally comfortable with verbosity in his emails: "Thank you again to those of you who watched with us as we made it. To those of you who haven't, I can tell you, now that it's done, it's a fucking good show. It really is. "
He went on:
And you can watch a few stolen clips on youtube. But if you really want to experience this show the way we all have, just start watching it. Take a chance with a few bucks and give it a shot. Buy an episode and see. Or
GO HERE and buy the whole thing.
Take your time watching it. Give it time. It doesn't really follow any rhythms that you're used to. So watch that one and wait a week and think about it. Then watch another one.
And once again thank you to the folks who already watched.
Take care. Be well. See you around.
Louis C.K.