"I had some friends over last night," Macaulay Culkin says, apologizing for the fact that his massive, sun-filled lower-­Broadway loft is in a state of slight disarray. Barefoot and clad in a red-and-white plaid button-down and worn-in jeans, his long blond hair hanging down to his chest, he pitter-patters down a hall and returns wearing a pair of bunny ears. "Easter's the one time of the year when you can buy bunny ears, so you gotta stock up," he says.
In some corners of the internet, Culkin's existence is almost Easter-bunny mythical. But actually, he's sitting right here, lighting a cigarette, taking off his furry ears, putting his hair into a man-bun. He suggests we take a seat at the dining table, which is covered in a mess of objects that, if pieced together, would amount to quite the evening: There are several king-size boxes of crayons, dozens of markers, dice, safety pins, piles of scribbled-on index cards, a stolen airplane-safety card, bottles of Wite-Out, bottles of red nail polish, empty cigarette packs, a Ping-Pong ball precariously perched atop a red candle, a mostly empty bottle of tequila, a full bottle of orange Gatorade, a Saturday Night Live photo album (it's filled with Polaroids from when Culkin appeared on the show in 1991; David Bowie was a musical guest), and a big heap of weathered, variously sized Moleskine notebooks. "I like hosting people," Culkin says, gesturing at the mess. "I like letting people make themselves at home."
Culkin bought this apartment when he was 19, back in 1999. "The neighborhood was a lot different. There was a Wiz downstairs. Now everything's owned by NYU." Not that he goes out much. "I'll take walks at two or four in the morning, because there's nobody out on the streets and it's easy for me to go unnoticed."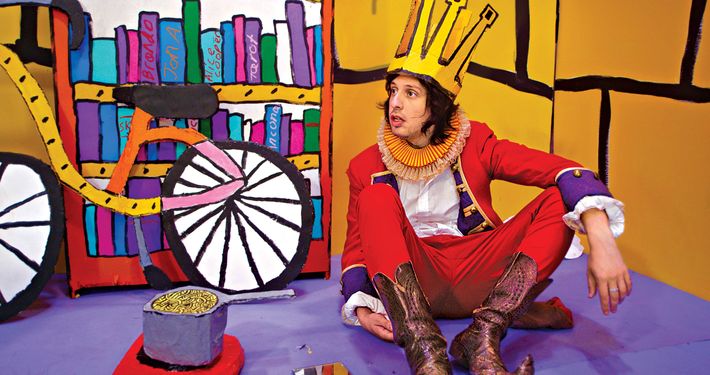 The buzzer rings, and Adam Green, one half of the early-aughts indie-rock band the Moldy Peaches turned solo singer turned artist turned filmmaker, saunters into Culkin's apartment with his signature flopsy gait.
Green, 34, wearing bell-bottoms and a woven jacket over a white V-neck T-shirt, is the reason Culkin's agreed to talk to me. The two are old pals (they've done art shows together and also founded an art project called 3MB, short for Three Men and a Baby), and Culkin appears in Green's new movie, Adam Green's Aladdin (an adaptation of the tale), out this month (he's releasing a new album alongside it), which Green has been working on for the past four years. He also wrote and directed the film, and stars as the titular character: In his version, Aladdin is a hapless musician who's lost his groove before happening upon a magic lamp that 3-D-prints ecstasy tablets, long pointy boots, a bird inside of someone's brain, and an asparagus chair. It's a bizarre, mostly nonsensical movie that is likely to give viewers a contact high. "I almost wanted it to feel like a foreign film," Green says. "I wanted to come into your soul with rubber gloves and do some weird surgical procedure on it, shift some shit around; you're not going to notice it happen, but hopefully you'll feel different after." And he actually sort of accomplishes this, mostly thanks to the incredible cartoonish sets, props, and costumes he labored over that recall an '80s-era Nintendo game.
Green built 30 sets out of papier-mâché from found telephone books, and filmed the movie in a Red Hook warehouse the summer before last. The project was funded in part by a $50,000 Kickstarter campaign. "Most people did the movie for basically no money, but I was buying like two tons of cardboard, hundreds of cans of paint, and it just adds up. We were taking out loans. Plus, I was just about to become a dad. It was the most irresponsible thing that's ever happened." (Culkin plays an Occupy-style protester who ultimately gets decapitated.)
"Mack, do you have a Triscuit or something?" Green asks. "I'm starving." Alas, the only sign of sustenance in Culkin's kitchen are boxes of Honey Nut Cheerios and Cinnabon cereal. Says Culkin, "Adam knows everybody, everywhere." That's only a slight exaggeration. Green is one of those downtown New York characters you'd definitely recognize if you hung out on or around Avenue A from 2000 to 2010. You likely saw him open for the Strokes, or you had a beer next to him at the now-defunct Heathers. In addition to Culkin, the movie mostly features his friends, the cool-kid actors, musicians, and artists Green has collected over the years: Natasha Lyonne, Alia Shawkat, Penn Badgley, Zoë Kravitz, Arden Wohl. Among this scraggly set of young people is the artist Francesco Clemente, who is wonderful as Aladdin's genie.
Getting dropped from Rough Trade after his last solo album, 2010's Minor Love, means this is a big moment for Green; and until recently he was feeling pretty bleak about his film's prospects. "Since I completed the movie, it was nonstop rejection for me. Everyone thought the movie was too weird. We applied and got rejected from like every single film festival; they all said it was 'off brand.' " But since he released the trailer online a few weeks ago, things are looking up. Green says he's gotten tons of different screening offers, many of which are now sold out. "In South Africa, they're going to show it for like a week at a movie theater!" Vicelandrecently called Green in for a meeting; it wants him to pitch a show for its new channel.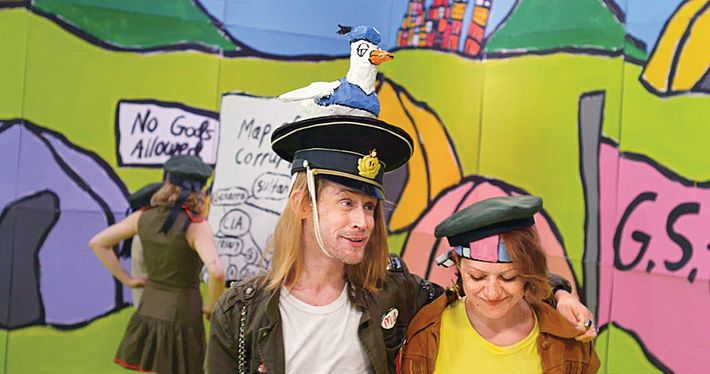 Culkin interrupts Green and beckons us to join him at the table. He wants to show his friend a small wooden rabbit figurine that he's about to transform into a turtle. "That's so great," says Green, laughing. "I'm going to make a rabbit-turtle," Culkin says proudly.
For all the general public knows, Culkin could have been making rabbit-turtles for the past ten years. He's been mostly unheard from since the mid-aughts (when he wrote the semi-autobiographical novel Junior and appeared in Saved!) and wound up in the news after paparazzi photos of him looking terrifyingly gaunt surfaced, leading to rumors of drug addiction and multiple internet death hoaxes. In the past few years, he's made a handful of public appearances: occasionally touring with his band the Pizza Underground (a five-piece that does Velvet Underground covers and replaces the original lyrics with ones having to do with pizza), cameoing as himself on The Jim Gaffigan Show, and, most recently, starring in the premiere episode of his friend Jack Dishel's comedy web series :DRYVRS as a grown-up version of Home Alone's Kevin McCallister, who's now a livery driver and appears to suffer from PTSD. Dishel is actually part of the Adam Green–osphere (he was the lead guitarist for the Moldy Peaches and has a big, hilarious double role in Aladdin). "I warned Jack that this was going to be a viral thing," Culkin says. "I was happy for it to bring attention to his show, but I don't think I'll do anything like that again. I want to make sure it's Jack's show, not the Mack show."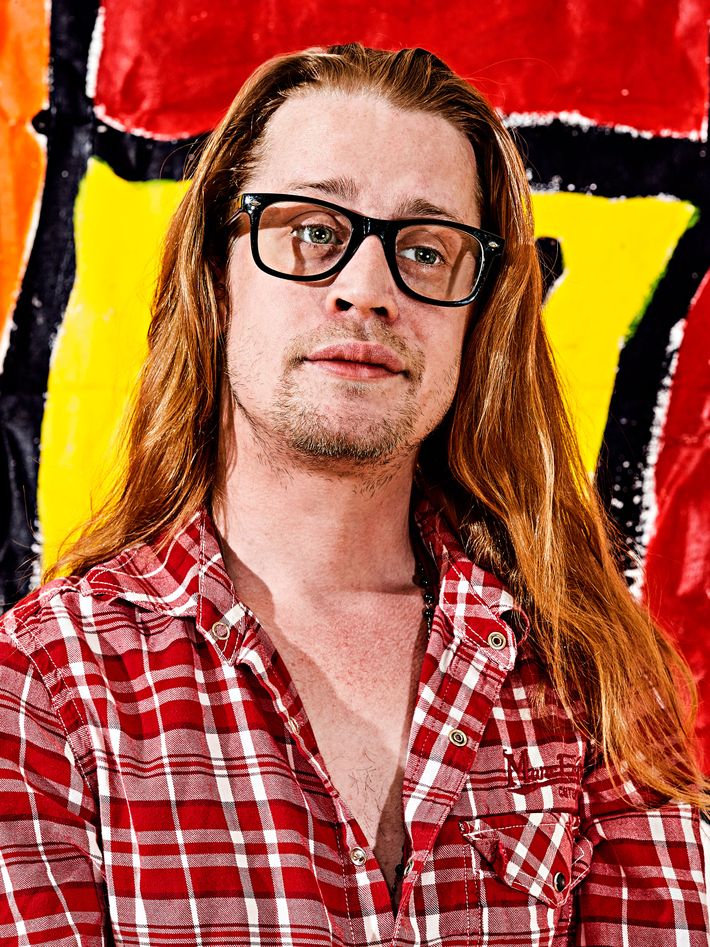 More than 25 years after Home Alone came out, Culkin's still recognized constantly. "And even if I don't get bugged, it's looming, it's there." Culkin says that when he started spending time in Paris a few years ago — he now splits his time between France and New York — he thought that nobody knew who he was. "It turned out that no, they recognized me, they just didn't care. I was like, 'Where have you people been my entire life?' "
Culkin shows me a card with a tiny Home Alone–era photo of himself on it, which was handed to him recently when he walked into a café in Paris and asked for the Wi-Fi code. "A waitress just gave it to me and walked away — their Wi-Fi code was 'Macaulay Culkin.' When she came back, I said, 'I like your Wi-Fi code.' She goes, 'Thank you,' and I say, 'C'est moi.' She turned white and brought over the owner of the place, who said, 'I knew you'd come here someday.' "
Green, who grew up in Westchester but moved to the city at 17, says that he first met Culkin, years ago, simply "out." When it comes to kids from New York, he says, "if you hang out, you know them. I remember seeing Mack at Spa or Life, those clubs that would let teenagers in, and I think we met through just going to those weird New York sort of parties." They didn't properly connect until an Albert Hammond Jr. ­(of the Strokes) concert in Los Angeles. "I remember Adam came up to me and introduced himself, saying, 'I'm Adam Green from the Moldy Peaches,' which was pretty obnoxious," recalls Culkin. But "we kept chatting at the after-after-party, exchanged numbers. A few weeks later, Adam randomly texted me if I was in town. I texted him back, and he was like, 'Come by to my place right now.' I did, and we sat around for four or five hours drinking Coors Light and smoking all of the cigarettes. Then and there, I knew we'd never run out of things to talk about."
During the summer of 2010, while Green was touring through Europe, Culkin met up with him in Frankfurt and joined him on tour for a few weeks. At the end of Green's shows, Culkin would appear onstage for a duet; they typically did "Kokomo" by the Beach Boys, "Unbelievable" by EMF, or "Wind of Change" by the Scorpions. It was during that tour that Green asked his friend to be in his first film, The Wrong Ferarri. "I told Mack I was thinking about making a movie on my iPhone and he was like, 'I'm in.' "
It's unclear (other than because he seems to really love Green) why Culkin has agreed to act in his movies. It doesn't seem like he has any larger ambitions to return to film or TV. "I'm a man in his mid-30s who's essentially retired," he says. "I kind of go where the wind takes me a little bit." He says he spends most of his days painting, writing in his notebooks, and "whatevering."
But it's the pile of Moleskines that is preoccupying Culkin. With his cigarette dangling from his mouth, he's furiously paging through one to find a series of jokes he's written: "Okay, okay, here it is." He starts reading aloud: "When life gives you lemons … cook fish. When life gives you lemons … be thankful it didn't give you testicular cancer. When life gives you lemons … you should paint them green and see if anyone notices they are not limes." He looks up at me and Green laughs along. "It goes on for pages and pages."
Adam Green's Aladdin is available for download April 15.
*This article appears in the April 4, 2016 issue of New York Magazine.