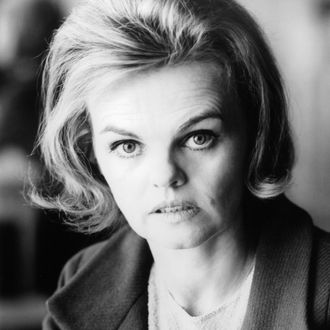 Madeleine Sherwood, circa 1975.
Photo: Michael Ochs Archives/Getty Images
Madeleine Sherwood, who was best known for playing the serious Reverend Mother Superior Lydia Placido, opposite Sally Field, on the 1967–1970 sitcom The Flying Nun, has died at 93. Sherwood made a name for herself on Broadway, solidifying her career with performances in Tennesse Williams's Cat on a Hot Tin Roof (as Mae Pollitt/Sister Woman) and Sweet Bird of Youth (as Miss Lucy), both onstage and in their subsequent film adaptations. Born in Quebec, Sherwood first appeared on Broadway in 1952's The Chase, before taking the role of Abigail in Arthur Miller's The Crucible the year later. Onstage, Sherwood also appeared in Camelot (1961), The Night of the Iguana (1962), Do I Hear a Waltz? (1965) and All Over (1967). Her film credits include Baby Doll (1956), Hurry, Sundown (1967), The Changeling (1980), and Teachers (1984). An active participant in the political movements of her time, Sherwood was blacklisted during the McCarthy era, and later arrested in a civil rights protest in Alabama in the 1960s. In 1989, she retired from acting and returned to her home in Canada.