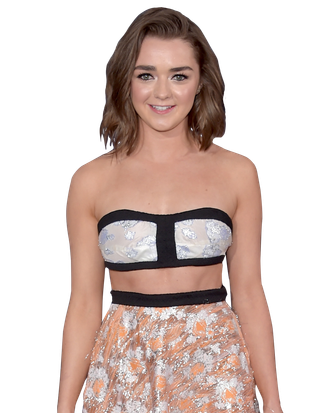 Photo: Alberto E. Rodriguez/Getty Images
Arya Stark is on probation, so to speak. After going rogue and killing Ser Meryn Trant — as revenge for the murder of her "dancing master," Syrio Forel — the youngest Stark daughter is in trouble at her assassin school, a.k.a. the House of Black and White. The guild of Faceless Men was none too pleased that she took a face from the Hall and killed for her own purposes, disregarding the murder she was actually supposed to commit. As punishment, they blinded her at the end of season five. Was the blinding a slap on the wrist, or was it meant to usher in the next phase of her training, in which she'll have to rely on all her other senses to survive? As Arya's starting to learn, it's a bit of both. Ahead of the season-six premiere, Maisie Williams sat down with Vulture to talk about Arya's upcoming year of pain.
Let's talk about where Arya is now — blind, begging on the street, being attacked by the Waif.
She's back to square one. You hear Jaqen H'ghar say in one of the trailers, "Second chances don't come around very often." That means a lot to Arya, that the stakes are even higher than they were before. There's definitely a spark in Arya, and Jaqen has a soft spot for her, but she is now being watched very, very closely. She's definitely not being trusted as she was before. This year is very difficult for her, because she's being reminded, "You messed up." She's not getting off lightly. After our first episode, that's a lot of what we're going to be seeing this year, is Arya getting beat to shit. [Laughs.]
If she doesn't want to get beat up, she's going to have to learn some skills, stat. Perhaps that's the point of the exercise?
Definitely! And skills that she'll take with her, and use to her advantage. Having a skill is fantastic, but learning a skill is very, very difficult. So that whole journey you see her on this year is painful.
It feels like the tough-love version of what Syrio Forel was trying to teach Arya. When he would say he was going right, but went left — to teach her to use all her senses. "Watching is not seeing."
It's definitely something she's familiar with, but never had to use. You can't stop taking the pressure off your eyes, when you have your eyes there to use, you know? It's hard to learn to fight with your ears. If your eyes are right there, are you going to start closing your eyes? That won't work. So it's kind of amazing that now she's going to learn this lesson because she absolutely has to. She's really, really taking that in now. Before, the stakes weren't quite so high. And now she's like, Oh. I should have listened all those years ago.
Those contacts look like they hurt. The effect is almost like the warging look, but not quite?
Yeah! That one, Bran just rolls his eyes back. This is like really murky. I couldn't actually see through them, so it's easier to act blind when you are blind — when you can't see. There are a lot of pros and cons — they are very uncomfortable, but they look cool, and that's all that matters. Because if they looked bad, you would just be sad, like, That wasn't worth it. They're painted [so that] there's some light and shade that gets through. Sometimes, a patch might get through, where I can see more of something, a little bit here or there. It's not just white, because there are darker bits and lighter bits. Like that scene I did in the Hall of Faces? We had these little goblets all the way around the outside of the halls, and I could see just little flames, [makes sputtering fire sound]. But only in parts of the lenses, so it really depends.
Arya's at perhaps her lowest — and literally darkest — point. But it's starting to feel like we're really building to something here. Here is a girl who has been separated from everyone she knows and loves, who has learned to kill to defend and define herself. And it feels like it needs to be leading to something greater, a moment of triumph for her. That this was all for a reason.
I'd like to think so! Everyone has their arc, but across the board, we're set up for the end now. It doesn't mean it's going to be positive for everyone, but it's kind of like cutting away all the rubbish. Taking all that away is cutting down to the core people who are really there to fight for it, and there's less of the bravado now. Everyone else is flaking off. This is the last leg. It's a new sort of fight. Whether you like it or not, everyone is involved in this game, and it's no longer good enough to just stay out of trouble. That's not an option anymore. You either fight for it, or you don't. Everyone's teamed up and figuring out who they're going to be fighting for.
It might be time to revise or rethink her kill list.
People are getting knocked off before she gets a chance to kill them! Joffrey, for instance. And there could be a situation where she wants to revisit her little list, and it's already been polished off for her! But that's not really on her mind at this point, because she's definitely becoming "no one." She's realized becoming "no one" is bigger than being Arya, and if she wants to learn this incredible skill that will make her the most successful killer of all, she has to leave her own personal revenge list at the door.
Lena Headey says that she'd want Arya to kill Cersei …
Yeah! That would be cool, right? I think Arya would love that, too. [Laughs.]
And Liam Cunningham says he wants Arya to kill Melisandre …
That would be amazing! I think Arya and I would love that, too.  That would be a nice little ending for her! She's still evil. To Arya, she's not quite so bad, but to everyone else?
But that's the irony — she signed up for this program in order to be able to kill people on her kill list, and then she's told, "Guess what? They're off limits. Only kill the ones we assign you."
Exactly! But you never know. Cersei's name could come up at the House of Black and White. Arya would have to accept, though, that this is no longer about her. That this is not her game. It couldn't be personal.
Let's say she learns to accept that, and she can kill whomever they want her to, and her own personal revenge doesn't matter anymore. What do you think would happen if a name came up at the House of Black and White and it wasn't someone she wanted to kill, but someone she loved?
Oh, wow. That would be awful! But Arya's got to be accepted back into the House of Black and White first. [Laughs.]