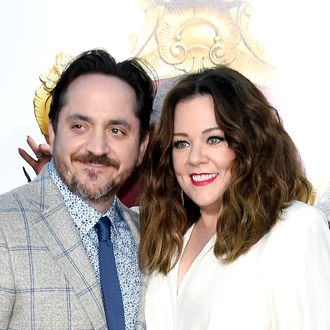 Ben Falcone and Melissa McCarthy.
Photo: Frazer Harrison/2016 Getty Images
Go see The Boss this weekend — or don't! It doesn't matter, because Melissa McCarthy and Ben Falcone already have another movie on the way. The adorable lovebirds turned power couple behind The Boss have set up their next project, a comedy called Life of the Party, at New Line, which also produced Tammy, their first big collaboration. Life of the Party is described as "akin in tone to the Rodney Dangerfield hit Back to School," but the plot is being kept under wraps. The pair wrote the script, while McCarthy will star in the film and Falcone will direct it. Ah, the joys of being exceptionally famous: Money, cool friends, the ability to sell mid-budget comedy projects in an increasingly franchise-driven world.