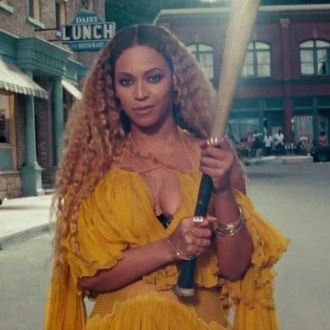 What if Beyoncé quoted him on her next album?
If you haven't been keeping up with the greatest piece of Beyoncé and Jay Z fanfiction that the internet has ever birthed, stop what you're doing and enter the surreal, shady, spectacular world of The Lemons. Yes, some fabulous human has flipped Beyoncé's tale of betrayal and turned it into a two-part saga unfolding on his Wordpress that imagines what must surely be going down right now at the Casa de Knowles-Carter in a post-Lemonade world. It of course stars Beyoncé and Jay Z, but they're hardly the only ones driving the story to peak hilarity. Among the cast of characters, we also get: Taraji P. Henson, Ava DuVernay, Solange, Mama Tina, Blue Ivy, Kanye West, Kim Kardashian, occasionally J. Cole, occasionally Tyga, and … Prince, resurrected. Enough said.
The story has since gone viral and now both Fusion and EW have found its creator. Did you guess that a 27-year-old security guard/producer who lives with his wife and son in Baltimore and won't cop to actually being in the Beyhive was responsible for such a masterpiece? Praise Beysus, you were right! Introducing Eric Richardson, the man you want writing your biopic. Here's what he had to say about his newfound fame and the future of The Lemons.
Yes, there will be more Lemons:
"I've been having so much fun with it that I've actually written up to Part 5. I can't expose too much but I will say Leonardo DiCaprio pops up. It's a who's who of TMZ favorites."
No, he's not a professional fanfic writer:
"I used to write anime fan fiction in middle school and I've seen people on Tumblr posting fan fiction – like if Drake brought Aaliyah back to life – but I would be like what kind of person sits around writing fan fiction? Now here I am. Life comes at you fast."
Of course, all the women involved would read Jay Z for filth:
"If you've ever been in a situation when one guy has been caught on some bullshit, all of the women are going to be against him from the get-go, like, "We're just going to shit on you and you're going to have to get over it." And the guy has to sit there and take it."
Obviously, he doesn't know if Jay Z actually cheated:
"For all we know, he might not have even cheated. He might have just looked at a chick."
Duh, Prince had to be there and demand kale:
"Prince just passed and it would seem tasteless to me if I didn't reference him. So, why not just bring him to life? I also hear he was vegan and liked vegetables, and I know kale is my least favorite vegetable. There's nothing more vegan than kale."
Give him the Pulitzer.