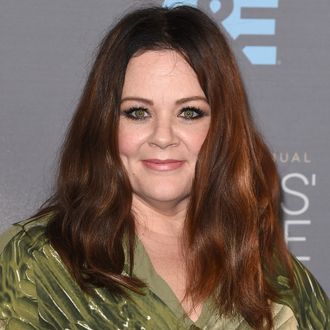 Sookie's back!
Photo: Jason Merritt/Getty Images
Melissa McCarthy may not have been asked to come back to Gilmore Girls when Netflix revived the series, but Sookie St. James sure is back now. According to TVLine, after some communication between creator Amy Sherman-Palladino and McCarthy, the Boss and Ghostbusters actress will return to Netflix's four-film spectacular. Given McCarthy's busy schedule, this may just be for a cameo appearance. "I know what the scene is. I'll pre-light it for her. She can drive up, run in, shoot it, and run out. I can get her in and out in two hours," Sherman-Palladino told EW about the Sookie scene she'd film if given the chance. (Rumor has it that Sookie is heading to Britain soon, which is somehow less extreme than Rory becoming a teacher.) McCarthy will shoot her appearance in the coming days, TVLine writes, so now would be the time to sign up for one of those tours of the Warner Bros. lot, stage an elaborate distraction, and sneak onto the Gilmore set. Not that we condone that kind of behavior, of course.
McCarthy also shared the news on Ellen.