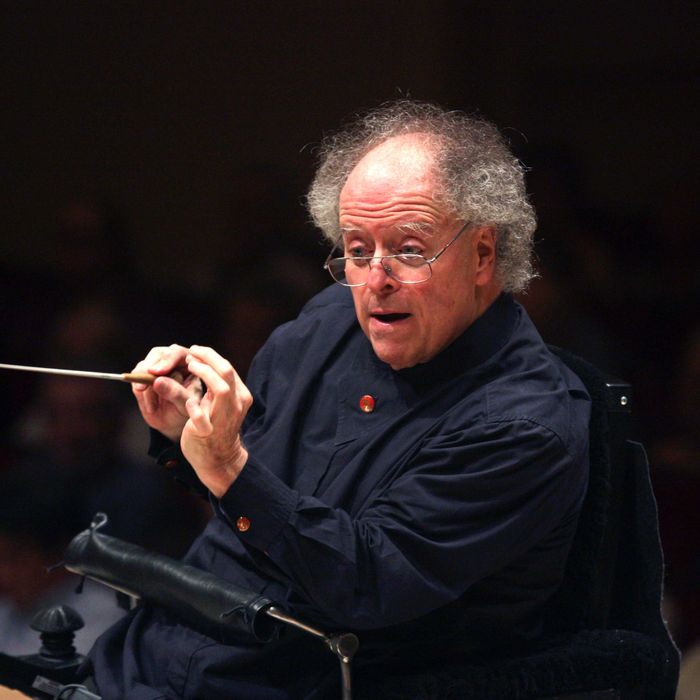 The Met Orchestra performing at Carnegie Hall on Sunday afternoon, May 17, 2015.This image:James Levine leading the Met Orchestra in Berlioz's "Symphonie fantasique."(Photo by Hiroyuki Ito/Getty Images)
Photo: Hiroyuki Ito/Getty Images
The Metropolitan Opera has been James Levine's house for so long that it's hard to know which group is smaller: those who remember the Met before Jimmy, or those who can imagine it without him. He made his debut before Watergate and became music director just as Jimmy Carter was elected. Now, after years of withdrawals, speculations, returns, and successors-in-waiting, the end of an eon is finally here: debilitated by Parkinson's and a string of back problems, Levine will retire at the end of the current season, which means his adorers will have six more chances to hear him in the pit and two with the Met Orchestra at Carnegie Hall before he officially becomes Emeritus. It's been a long, slow fadeout, which will continue for a while: He's withdrawn from next season's new production of Der Rosenkavalier, but he is still scheduled to conduct Rossini's L'Italiana in Algeri, Verdi's Nabucco and Mozart's Idomeneo in 2016–17.
Conductors are a long-lived bunch, but in an era of intercontinental careers and cultural restlessness, none is so closely identified with a major institution, and none has left such a profound artistic impact. (Not, at any rate, since 1980, when Eugene Ormandy ended his 44-year tenure as music director of the Philadelphia Orchestra.) Levine has hired and trained generations of orchestra members, and nurtured young singers who bloomed, plateaued, and retired. He has probably had a hand in the career of just about every major opera star in the world. The Met performed Berg's Lulu and Debussy's Pelléas et Melisande because he loved them, and for years ignored Shostakovich and Philip Glass because he didn't. His influence runs so deep that it's hard to isolate — even his weaknesses shaped the opera world. He thought of productions as mere vessels for great music, making the Met inhospitable to Europe's most outlandish directors. He paid scant attention to Russian opera, which in the 1990s left an opening for Valery Gergiev to bring that vast repertoire and a passel of Russian singers to the West. Levine's tectonic, bass-rich sound and propulsive phrasing became an immovable stylistic fact: Other conductors who visited the Met sounded sort of like Jimmy, or they didn't.
Some potentates hang on to power through habit, force, or fear; Levine's was rooted in the clarity of his musical vision. Out of the 2,551 performances that he has conducted so far, no doubt a couple hundred were duds. But even weakened, as he has been in recent years — lately, he's been conducting from a motorized wheelchair — he retains the ability to send a jolt through the pit and the stage, galvanizing ensembles so they glowed, conjuring thunder and sadness and glee. In Verdi's Otello, he whipped the opening storm into a surge that spilled into Iago's fury and Otello's desperation. In Wagner, he sometimes stretched out slow tempos, magically keeping the music aloft as it approached the limits of stillness. (Occasionally, though, things went slack, turning a performance into a dull slog.) His best Mozart, like the characters themselves, had a buoyant wisdom, a deep, consoling grace.
For a man who exerted such complete control over a world-class institution, Levine projected an affably rumpled air. His hair sprang around him in a corona of fuzz, and he rarely varied his daytime work outfit: polo shirt, track pants, and a towel thrown over his shoulder or around his neck. Off the podium he talked in sentences that looped, swerved, and meandered before coming back to within shouting distance of his original point, a handful of paragraphs later. He understood singers, and knew that they feared and adored him. He loved their voices, too. If music left any room in his life for anything — or anybody — else, he kept it hidden behind a wall of unbreachable privacy.
Ironically, the length of Levine's tenure has left the Met groping for artistic vision. He let himself be sporadically distracted by other jobs (he was music director of the Munich Philharmonic from 1999 to 2004 and the Boston Symphony Orchestra from 2004 to 2011) and then by a ceaseless parade of health problems that appeared to age him rapidly. (He is 72.) He relinquished the role of artistic director in 2004, and when Fabio Luisi was named principal conductor in 2011, it seemed as though a succession was in the works. But Levine kept coming back in limited and fitful ways, and Luisi's career moved on. The perpetually temporary situation left general manager Peter Gelb free to plan repertoire, productions, and strategy, all without an equal artistic partner.
That may change — the Met has plans to name a successor in the coming months, and the balance of power may shift. But whoever takes over the opera world's most exalted podium will have to coexist both with the new music director emeritus and with a legacy of powerful memories. "Not just the end of an era," New York Philharmonic music director Alan Gilbert tweeted on hearing the news; "it's the end of THE era."