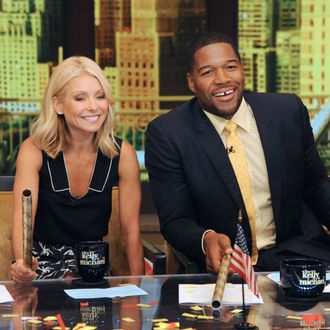 Tense! With Kelly and Michael.
Photo: Dave Steele/Disney Enterprises/Getty Images
Kelly Ripa resumed her reign as queen of morning television today, but all is not well in the state of Live With Kelly and Michael. According to a source for People, Michael Strahan will leave the show on May 13, four months earlier than previously announced, so "GMA can integrate him early before September." Ripa disappeared from the show last week, soon after the news of Strahan's departure broke, as ABC didn't tell her about the change until right before it was announced publicly. According to People's source, "the vibe between [Ripa and Strahan] is all business," and "it remained tense" during Kelly's time away, though Strahan and Ripa texted "cordially" over the weekend once she announced her return. Oh, to have the transcripts of that text exchange.