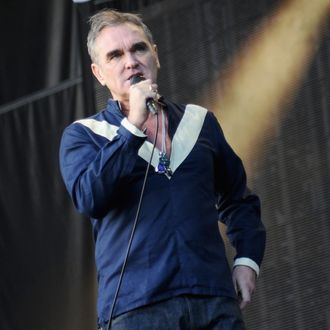 Photo: Ilya S. Savenok/2015 Getty Images
As tributes for Prince, who died on Thursday at the age of 57, keep rolling in from artists and fans across the world, the latest to honor the musician is Morrissey. In a letter posted on his fansite True To You, Moz wrote that his fellow vegan and animal rights activist "influenced the world more than is suspected, and somehow the life of his music is just beginning, and he would be thanked not only by humans but also animals for living his lyrical life as he did." How nice! Quite the touching sentiment. But you came here for the juicy stuff, didn't you? You want to read that sharp, bitter, signature Lancashire scorn, huh?
"Prince, who made something of his life as opposed to having fortune handed to him, is far more 'royal' than Elizabeth 2, and he will be mourned far more than she, for she could never make herself loveable, no matter how many paid and promoted non-stories flood the newspapers of the world," he continued. "The laughing gulls of Buckingham Palace will never allow you to forget who wields the stick. And, of course, we know very well what gulls tend to do on the people below." Ah, there we go.
We sure can't wait for that biopic.