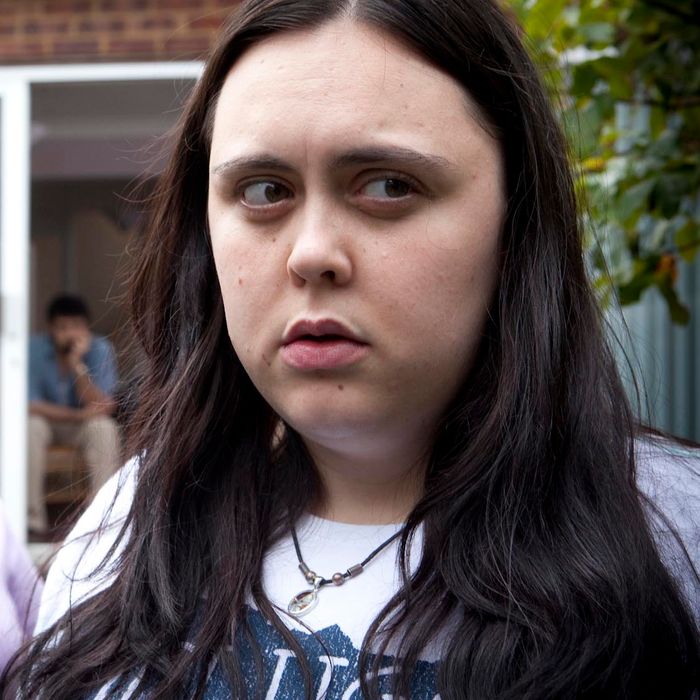 Sharon Rooney as Rae Earl.
Photo: Ed Miller/Channel 4
For three emotional, hilarious seasons, My Mad Fat Diary took British viewers inside the unfiltered mind of teenager Rae Earl. This extremely candid, depressed, and horny teen feels everything, and lets viewers know about it. The critically acclaimed show, which came to an end in 2015 with a fantastic three-part finale, is only 16 episodes in total. Earlier this month, My Mad Fat Diary arrived in full on Hulu— here's why you should be watching the highly bingeable drama.
It gets mental health right. My Mad Fat Diary begins with Rae (the excellent Sharon Rooney) being discharged from a psychiatric hospital. She battles depression and body issues throughout the show and was admitted for care after cutting herself. This plotline is handled with care and never treated lightly, yet through Rae's voice-over we often get funny insight into her experience fighting her darker times. Exuberant and candid, these voice-overs are a window into the things she's too scared to say out loud. They can range from her raging teen libido ("The vagina police should come and take my bits away") to her own insecurities ("I'll always be the same pointless blob"). Scenes between Rae and psychiatrist Dr. Kester are something of a pressure release valve, allowing her to voice her insecurities out loud, safely, and consequence free. Unfortunately, another release for Rae is self-harm: dragging her knuckles down a brick wall, scalding herself in the shower. Rae veers from one extreme to another and her Mad Fat Diary captures the turbulent life of a teenager better than most shows.
Its depiction of friendship. At its core, My Mad Fat Diary is the story of a troubled teenager trying to start a new life for herself. She starts off with no friends but soon falls in with a group from school. There's popular and pretty Chloe, love interest Finn, secretly gay Archie, plus party-hard couple Chop and Izzy. Rae is desperate to impress and ingratiate herself, which she does, but not without a bit of trouble. One early scene sees the group enjoy a pool party, but it's less fun for body-conscious Rae, who gets stuck in a slide. If that wasn't bad enough, it reveals the scars from her cutting.
It's honest about teen romance. Despite a rocky early patch, Rae and Finn hook up. Unlike some teen dramas where sex is dealt with offscreen, here we get into the nitty-gritty. Rae has an insatiable sex drive, and the show delicately balances her desires with more complex issues around her weight and appearance. This is a character who can say she wants to "shag him until there is nothing left" yet can't accept that Finn, the handsome and desired one of her group, is attracted to her. The journey the pair go on is among My Mad Fat Diary's strongest plotlines.
Its mid-90s British vibe. "Oh, Damon, I love you, but I've got to get out of the house and meet real people." That's Rae talking to a poster of the Blur front-man in his '90s pretty-boy pomp. Rae loves music and, this being the mid-90s in England, Britpop is all around her. The soundtrack includes songs by Pulp, Suede, and Manic Street Preachers and more obscure names like Ocean Colour Scene. One episode sees the gang trying to attend a massive Oasis gig. Between the tunes and the fashion (tie-dye shirts, tracksuits), there's a highly nostalgic feel to it.