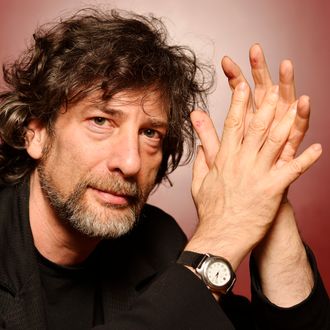 Photo: Ulf Andersen/Getty Images
Though Neil Gaiman had previously said he would not adapt his debut novel, Good Omens, without his late co-author Terry Pratchett, a posthumously found letter from the beloved writer, who died last year after battling Alzheimer's, urged Gaiman to go on with the project. Gaiman told a cheering crowd at an event to honor Pratchett at London's Barbican that he would personally write the television adaptation, at Pratchett's instigation. It will apparently be a six-part miniseries. Gaiman said he read Pratchett's letter and "At that point, I think I said, 'You bastard, yes.'" (It was not, despite early reports, a "request from beyond the grave," Gaiman said on his website.) Previous attempts to adapt the 1990 apocalyptic sci-fi comedy into a film faltered in the wake of 9/11, when Terry Gilliam was slated to direct Johnny Depp. (Depp circa 2002 could've played the heck out of Aziraphale or Crowley, an other-worldy pair who try to usurp the End of Times because they enjoy their cushy digs in modern England.) At Gaiman's request, Dirk Maggs adapted Good Omens for BBC Radio 4 in 2014. It included cameos from Pratchett and Gaiman. Of the project, Gaiman writes:
I've been working on the Good Omens scripts for much of the last year, wishing that he was still here and could help, even if it was just to take a phone call. It's hard when I get stuck, and want to ask his advice. It's harder when I come up with something clever or funny that's new and I want to call him up and read it to him, and make him laugh or hear him point out something I'd missed. We were always each other's first audiences for Good Omens. That was the point. Neither of us had any idea whether or not we'd be able to sell this odd book or not, when we were writing it, but we knew that we could make the other one laugh. Anyway. I'm now 72% of the way through the Good Omens scripts, and the end is in sight.
He hopes for the teleplay to be done by May 31, when The View From the Cheap Seats comes out.