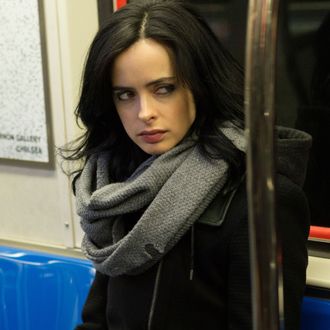 Still from Marvel's Jessica Jones.
Photo: MYLES ARONOWITZ
Marvel usually prides itself on brand synergy. If a character is getting a big push in a movie or TV show, the higher-ups tend to make sure that same character has a starring role in a comic-book series. Jessica Jones was a rare misstep on that front: The Marvel-produced Netflix series Marvel's Jessica Jones garnered massive acclaim last fall, but there wasn't a single comic on the stands with her as a lead. That problem seems to be getting solved, albeit belatedly. During a Saturday panel at Seattle's Emerald City Comicon, Jessica Jones's co-creator, writer Brian Michael Bendis, let slip that he's reuniting with her other co-creator, artist Michael Gaydos, for a new series starring everyone's favorite dysfunctional superhero detective.
According to a report from the panel by Albert Ching of Comic Book Resources, Bendis was asked if there would be a follow-up to Alias, the early-2000s series that starred and debuted Jessica Jones. "This isn't an official announcement," he said, "but I'll tell you, in lieu of it — yes." He added that the new installment will pop up after this summer's big Marvel Comics mega-crossover Civil War II. Bendis has already run one of his story ideas by the Netflix version's showrunner, Melissa Rosenberg, and he promised at the panel, "I genuinely think you'll be surprised by what we do in the first issue. I pitched it actually to Melissa Rosenberg, who runs the TV show, at WonderCon and she said, 'Really?'" If it was enough to shock the woman who supervised an eyeball-syringing, one shudders to think about what Bendis is cooking up.