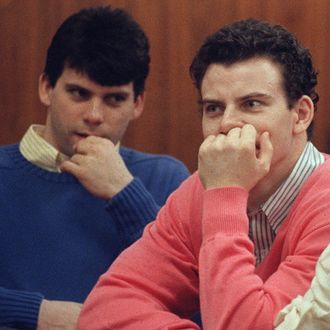 The Menendez brothers on trial.
Photo: MIKE NELSON/AFP/Getty Images
In the televisual justice system, the people are entertained by two separate but equally important groups: the amazing shows that break new ground, and the numerous other shows that come along afterward trying to repeat some of that same magic. In the wake of The People v. O.J. Simpson, NBC and Dick Wolf today announced they were developing their own ripped-from-the-headlines anthology series, Law & Order: True Crime, which will kick off with the tale of that other famous double-murder in an upscale Los Angeles neighborhood that received a controversial trial in the 1990s: That's right, Law & Order is doing the Menendez brothers. In the words of NBC's Jennifer Salke, "We will recreate the cultural and societal surroundings of both the murders and trials when people were not only obsessed with the case but examining how and why these brothers committed these heinous crimes." Who said there were no cable-style shows on broadcast?