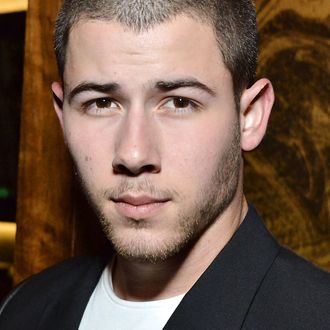 Nick.
Photo: Araya Diaz/Getty Images
Recovering teen star Nick Jonas participated in a Reddit AMA on Thursday to discuss his ever-maturing image and to promote Last Year Was Complicated. Out June 10, the project marks Jonas's third solo effort, one that aims to explore fittingly complicated territory, as exemplified by his recently released single, "Close." The former JoBro used the Q&A sesh to shed light on the album's inspiration — but he also addressed other such random topics as his family's purity rings, South Park's Disney send-up, and his perception of the new Miley Cyrus. Read on for the highlights.
How did Jay Z help with his new album?
Basically I went to play the music for Jay Z, who's now partners with my manager, Phil McIntyre. When he heard the record, I said, "I think I have a title picked out," and I told him. And he said, "After hearing all the music, I don't think it's quite right. I think you should try thinking of some other things. Can you just tell me what this year of your life was like?" And I said, "Last year was complicated." And he said, "That's it."
Last year was complicated, because no matter who you are or what you go through in your life, we all deal with the same human issues. I started writing the record and then had a breakup that became kind of the main thing that the songwriting was about. And actually, to answer the third question, Champagne Problems is a song about sharing a bottle of champagne with my now ex as we were breaking up to kind of close that chapter. It was sad and slightly sweet at the same time. It was a range of emotions and feelings and I think this song, although it sounds like a party song, actually has some of the deepest lyrics on the record.
His thoughts on his ex, Miley:
[I]t's been a while since I spoke to Miley, but I think that the persona is awesome and I think that she is living proof that you can continue to evolve as an artist and a creator. And I'm a huge Woody Allen fan, so I'm looking forward to seeing the show that she's doing with him.
I'd like to start by saying this: I came from an incredibly religious home, growing up my dad was a pastor, and much like The First Family or people in front of the public eye, we were highly scrutinized as a family within the church and looked at as, well I guess you would call an example of what that family image should be. So long before our career started in music, that was what we were dealing with.

There was a person in the church who at one point demanded that all the kids in the youth group put these purity rings on and make this commitment, so without a full understanding of what we were stepping into, we all made this commitment.


But as you do, you grow up, you live life, you gain some world perspective and you develop your own views and opinions as it relates to faith, as it relates to sex, and everything that falls under the bounds of what your parents teach you and what comes from religion and you get to make your own choices.


So I started making my own choices, fell in love with somebody, made the choice to have sex with them, and from that point on it was about me being a man and being okay with my choices. And then it related to my art and people's view of me and the public eye.


I think it's always about being comfortable and confident in who you are. I've got a lot of perspective and real care about sex from those days and specifically because people were watching us, because it was such a strange thing to a lot of people to wear these purity rings especially as young men in a pop boy band. But I think when I'm looking back on it, although it was challenging to live with that, to be seen and have that attached to our name was very tough. I think it was a good thing. It gave me a really good perspective to where as now my main thing is about being okay with who I am as a man and the choices I've made, and I think everyone should have a good and solid conversation with either their parents or loved ones about sex and about what they want to do with their life, because it shouldn't be taboo. It's a big part of who we are and what makes us human, and if we can't address these things head on, then I think that it can really be challenging.

How did he feel about that savage South Park episode ("The Ring"), in which Mr. Mouse delivered a purity-ring beat-down?
When it first came out I didn't think it was funny to be honest, but probably because I was actually living all of that in real time and so it just made it harder to come and live your life as a young person and have all that going on. But years later and once the purity rings were no longer around, it was very funny to me and I've actually watched the episode a few times.
On his transition from Disney star to a more mature mainstream star:
[A]ny time you transition from one career to another, specifically going from being a young child star to building an adult career it can be tough. There were a lot of challenges my team and I faced when we first launched my solo career. But I'm the kind of person that likes to attack things head on and just try to be as aggressive as possible with really setting up the next chapter and doing something different. I was thrilled when it actually connected with people and it made an impact.
What's his new target demographic?
I don't really go for a specific demographic when I'm writing music, I think it's more about just doing what comes naturally for me musically and melodically. It's been great to see people respond to music that weren't familiar with my work and with my brothers or were not fans of it and now it's transitioned to them just being a fan of me. So I think it's just about staying true to what comes to you and being, you know, kind of invested in that way.
What will he perform on SNL (April 16)?
I want to keep that a surprise actually. But I can say that I will be performing Close with Tove Lo and I believe it's one of our first or first live TV performance, so I'm pumped.
A very honest Redditor asked: "My wife and I both have a 'Celebrity hall-pass' where we each chose 1 celebrity we can sleep with if the opportunity ever came up (Mine is Jennifer Lawrence…probably no chance, lol) Hers is you!! Since she doesn't Reddit I feel it is my husbandly duty to ask…Want to sleep with my wife?" To which Jonas replied:
So this is not the first time someone has mentioned the celebrity hall pass thing to me, and in reference I guess specifically to me being the hall pass of the couple. It's incredibly overwhelming to think about that and to think about the fact that that's actually a conversation that's been had and then they meet the person. So I don't know if I want that pressure, haha. And good luck with your hunt for Jennifer Lawrence. You know, anything could happen.
I'm going to be honest and say that kids do scare me a little bit in the sense that it's a lot of responsibility. And I love kids, love hanging out with kids, but it is a huge responsibility, because this is a person that you'll have to take care of for their entire life.


But, all of that fear and doubt in myself went away recently when I spent a day with my niece. I basically was there for about 6 or 7 hours, just gave her all of my love and attention for that time, and she's two years old. There would be times when she was busy playing by herself, or doing her own thing with other people, and she would give me throughout the course of the 7 hours, maybe 12 minutes total of her dedicated time. And that was the best 12 minutes of my year.


So I saw very quickly what the magic and beauty of having your own kids is. Even just in being an uncle, it was a really special thing. And I'm really happy for my brother and his wife, and I love my niece.
I like the short hair! It's easily manageable, and, I don't know … I don't even know if I grew it back out, if it would be curly again. My hair went back and forth a lot as a kid, being curly and not. So, I don't know. It could just come out straight, there's no way of planning these things.

Also the fact that I think there's an association with me as a young person with that hair; it needs to be a little while before I have it again.
I'd love to work with Kanye, and at some point in time Prince would be amazing as well. I had the chance to perform with Stevie Wonder at the Grammys with my brothers and play with Paul McCartney at the Whitehouse, so Prince is kinda like the completion to my Holy Trinity of music.


I do listen to rap. I love the J. Cole album from last year and obviously Kendrick is amazing. And then of course everyone's loving Panda by Designer right now.
I'm gonna go with Superman. He's kinda got all the superpowers and Batman doesn't actually have any I don't think. You know, he's just Batman.


But Superman for sure.
Catch the rest of his answers here.