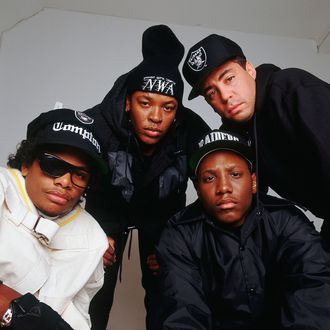 Sigh.
Photo: Lynn Goldsmith/Corbis
N.W.A.'s full surviving lineup hasn't performed together in more than two decades, and if you think one little Rock and Roll Hall of Fame induction might change that, think again. Ice Cube has confirmed to the New York Times that a reunited N.W.A. won't perform when they're inducted in Brooklyn on Friday due to a disagreement with the ceremony's organizers. "I guess we really didn't feel like we were supported enough to do the best show we could put on. We wanted to do it on a whole other level, and that just couldn't happen. But we're totally honored, humbled, and appreciative to the Hall for even just considering us, inducting us, and inviting us," he says. Though he is confident that the entire group — Dr. Dre included — will be there when Kendrick Lamar inducts them. "As it stands now," anyway.
One person who most likely won't be thanked in their speech? Former manager Jerry Heller, whose lawsuit over his portrayal in Straight Outta Compton recently got another chance in court. "I don't have anything to say to Jerry. He's never owned up to his participation in the destruction of the 'World's Most Dangerous Group.' So he doesn't deserve to be mentioned," he explains. "The music that we put together, he had little or nothing to do with. We would never listen to his ideas." Coachella 2055 it is, then.