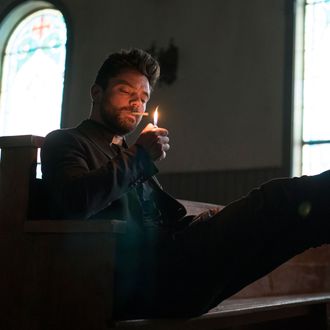 Still from Preacher.
Photo: Lewis Jacobs/AMC
There's only about 18 seconds' worth of footage in the new teaser for AMC's hotly anticipated comics adaptation Preacher, but it features a bevy of unsettling images. We see some kind of invisible force plowing through a cornfield, a blood-covered Joseph Gilgun (who plays the vampiric Cassidy) screaming on a dirt surface, a mysteriously defaced Bible, Ian Colletti gazing toward us as the hideously deformed character Arseface. Tying it all together is a British-accented voiceover (fans of the comic will likely suspect that this is an angel speaking … it's a long story) and a few appearances from Dominic Cooper as the titular fallen man of God. The series debuts on May 22, so you have plenty of time to argue over what this heap of broken images adds up to.