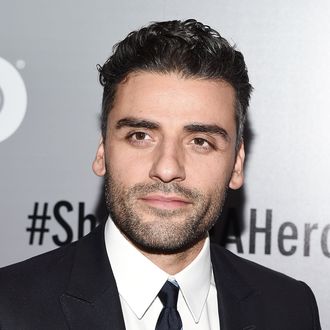 Hello, sweet prince.
Photo: Andrew H. Walker/Getty Images
Faced with that eternal question: Whether 'tis nobler in the mind to play the Stars and Wars to outrageous fortune, or to take arms against a sea of theater critics and perform Hamlet in New York, Oscar Isaac has decided to do both. The fellow of infinite GIFs — Poe Dameron, Llewyn Davis, a Yonkers mayor, and a solid dancer to boot — will play the Danish prince in an upcoming production of Hamlet staged by the Theater for a New Audience at the Polonsky Shakespeare Center in Brooklyn. Sam Gold, who won a Tony for Fun Home, will direct the production. Isaac, more than a rogue and peasant movie actor, has several Shakespeare performances to his name, including a turn as Romeo in a 2007 Shakespeare in the Park and appearances in 2005 and 2007 takes on Two Gentlemen of Verona. Get thee (eventually) to a ticket office: His Hamlet is scheduled to begin previews on June 20, 2017.
Update 2/23/17: After rumored artistic differences, Sam Gold's Hamlet has changed venues from Brooklyn's Theater for a New Audience to the Public Theater in Manhattan; Key & Peele's Keegan-Michael Key has been cast as Horatio. The show will begin previews on June 20 and run through September 3.