Claire, our time-traveling heroine on Outlander, is on a very serious mission to change history. And because that's not enough, she takes on some additional work, starting in Saturday's episode. With husband Jamie off making headway with various princes and ministers of finance, Claire starts to volunteer at a local hospital in 1740s Paris. Given her background as a WWII combat nurse with modern medical knowledge, Claire has a distinct advantage over the hospital's official employees, save one. Meet Bouton, the dog-doctor of L'Hôpital des Anges.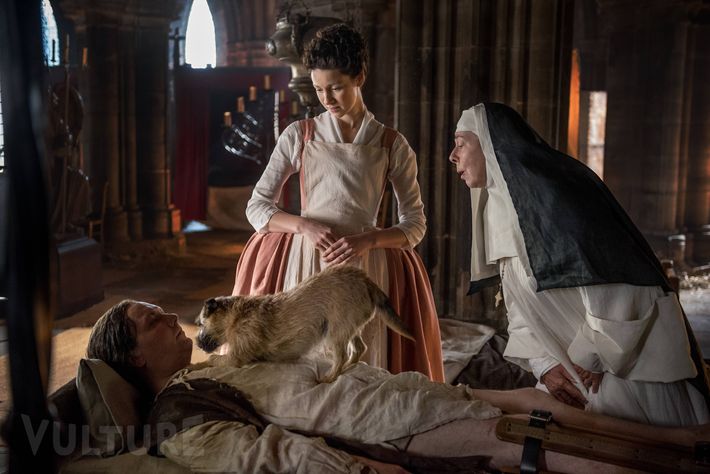 Bouton, as fans of the book series know, is more than just a pet or mascot — he's the canine assistant of Mother Hildegarde de Gascogne, who runs the hospital. And because Bouton can sniff out or sense diseases and infections that don't have any surface symptoms, he's quite useful when Claire needs to make a diagnosis without modern technology.
For those with an eagle eye, yes, Mother Hildegarde is played by Frances de la Tour, a.k.a. Madame Maxime from the Harry Potter films. She may not be a witch here, but Claire likes to think of Bouton as Hildegarde's familiar.