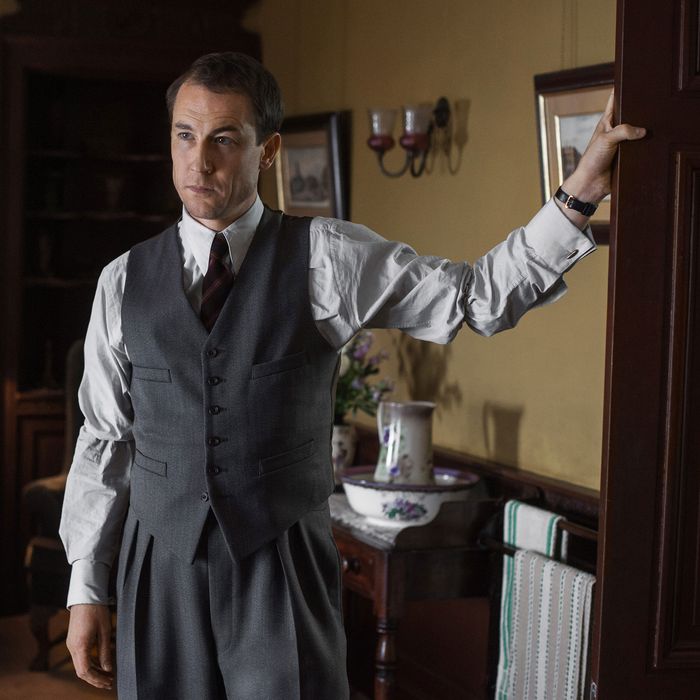 Tobias Menzies as Frank.
Photo: Neil Davidson/Sony Pictures Television Inc
We'd normally give a spoiler warning, but when Outlander returned Saturday night on Starz, the show in essence spoiled its own story for us: Jumping forward in the narrative, we see what happens when Claire finally makes it back to her own era, and whether or not she was actually successful in trying to change the past (she wasn't). "It was a really bold storytelling move to show in the very beginning where we're going to end up," Caitriona Balfe tells Vulture. "It's like, 'Here's where we get to, and now we're going to show you what happened leading up to that point.'"
Not only does Claire learn all of her efforts to prevent the Battle of Culloden are for naught, but she is now back in the 1940s, without Jamie, pregnant, and in the awkward position of trying to explain to Frank where she's been all this time. "I went back in time, married another man, and am carrying his baby," Balfe laughs. "Surprise!" It's a conversation we glimpse in the book series by Diana Gabaldon, but we never get the full account. In a flashback in the third book, Voyager, Claire tells Frank everything rather hurriedly. Here, she takes her time to talk to him, and while she's off processing her return by confiding in Mrs. Graham, Frank is able to piece together a few more clues that make her story slightly less implausible: like the authentic 18th-century clothes that can't be explained and her sudden obsession with Scottish history. "I thought there was a lot of gold there to see what happened when she first came back, what she told Frank, and what his reaction was," showrunner Ron D. Moore says. "He agrees to resume their marriage and raise a child he knows is not his own as his own daughter, and that's just an extraordinary thing to do. How did they get to that place? I was just like, 'Let's slow down.'"
Show Frank, as opposed to Book Frank, is a little more ready to take a leap of faith. "Once we took him down that path where he had been to the stones, it just sets him up in a different way," Moore says. "He's heard this story about the stones before, and even if it still seems like a crazy story, at least it has more validity than if she just showed up out of the blue. Whether or not he believes her, he does know something happened."
"I was never entirely convinced whether Frank completely buys it," Tobias Menzies, who plays Frank, counters. "Whether he wonders whether there's an element of magical thinking going on, for Claire. A bit of him accepts it, because he has to, but whether he believes in time travel? There's no way I'd believe it, if someone said that to me. I'd think they were delusional!"
But Claire doesn't present as delusional in the premiere. When Frank visits her at the hospital in the books, she acts, well, a wee bit crazy. She's not explaining things well and laughs at the absurdity of it all. The doctors think she's in shock. Here, Claire's demeanor is more serious. "You see a really cold and hard side of Claire," Balfe says. "She's so shut down, and she won't let him in. She's being cruel in a way, for the greater purpose of trying to be kind to him. I felt like there was no other option but to be that way." It's not that Claire doesn't care for Frank, Balfe explains. But she knows she'll never love Frank the same way again. "He's still her first love," Balfe said. "He's still a good man. But her heart is with someone else, and she can't ever allow him to believe that will change. There will be another person in their relationship for the rest of their lives."
As Frank slowly understands what Claire tells him, he is able to process it after a much-needed meltdown. "I thought it was great," Gabaldon says. "It's a textbook illustration of a point that's often missed in both writing and film — you handle intense emotion with intense restraint. Watch Caitriona and Tobias doing that, with the subtlest of body language and the most nuanced facial expressions. The scene collects a huge amount of power, with a brief but startling release when Frank realizes the baby is Jamie's, and then he blows off all the steam when he beats the crap out of the reverend's garden shed."
With a few conditions, Frank ultimately accepts raising another man's child as his own. (Fatherhood and paternity are both themes that will recur throughout the series, for more than just Frank's character.) "In order to love the woman he is married to, to reclaim her, he has to swallow some of his pride. And that's what's interesting about the type of love Frank and Claire have," Menzies explains. "It's less conventionally romantic, but it's a great sacrifice he makes for her." Score one for Team Frank.