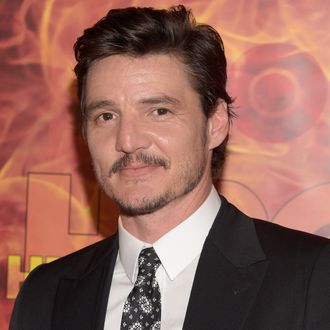 Pedro Pascal, head currently intact.
Photo: Jason Kempin/2015 Getty Images
Pedro Pascal won't necessarily die in the Kingsman sequel, but let's be honest, he probably will. The question is: Can Pascal's death top his exit from Game of Thrones? Given the evidence in Kingsman: The Secret Service, Matthew Vaughn is certainly going to try. Pascal has joined Kingsman: The Golden Circle as a presumably mellow and yet smokey character named Jack Daniels. The sequel will reunite Taron Egerton and Edward Holcroft. Halle Berry and Julianne Moore are also in talks to play the head of the CIA and the film's villain respectively — hey, a casting director can dream — while Hollywood's No. 1 source for casting news, Taron Egerton himself, hinted that Colin Firth may return as well.
Here is a photo of Pascal and Egerton together. Brace yourself appropriately.