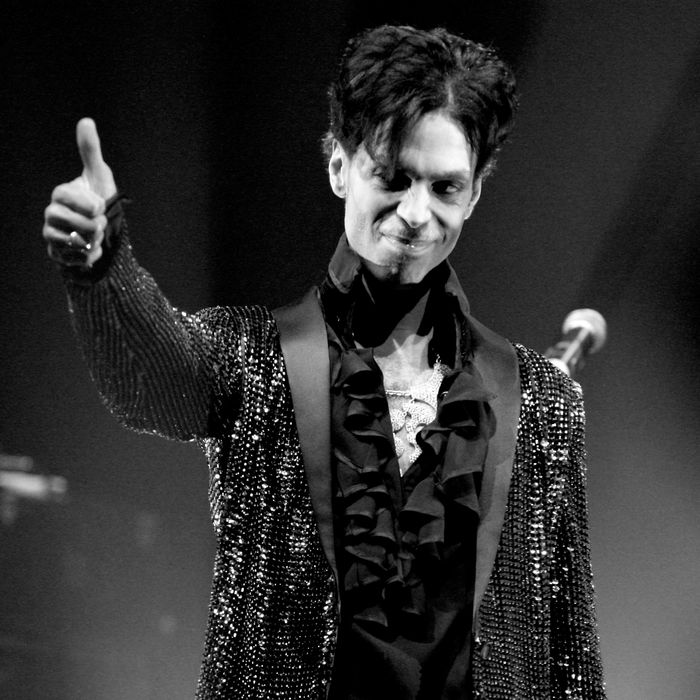 Prince attending the performance of M. Butterfly on September 21, 1988, at the Eugene O'Neill Theater in New York City.
Photo: Kevin Winter/Getty Images
When Prince died last week, two of the most extraordinary shows on Broadway immediately paid tribute: Hamilton with an onstage "Let's Go Crazy" dance party and The Color Purple with a spectacular gospel rendition of "Purple Rain" led by stars Cynthia Erivo and Jennifer Hudson.
No doubt Prince himself would have enjoyed both: He was a longtime supporter of Broadway, especially of shows that broke the traditional theater mold. Back in the mid-'90s, he was an early Rent fan. "I remember him coming to Rent — you couldn't miss him," says Jesse L. Martin, the show's original Collins. "He was wearing a hot-pink jumpsuit!" Prince waited backstage after the show to meet the cast, "and we all approached him like royalty. I think I almost bowed," Martin says. "He was really tiny and absolutely beautiful. It was like meeting Bambi." Daphne Rubin-Vega, Rent's original Mimi, remembers being invited to a Prince album-release party in the Village where the diverse crowd included both Spike Lee and Marilyn Manson. "He was very generous with his parties," Rubin-Vega recalls. "I remember he wore red, and when I said hello, he reached out his hand, and I went to kiss him on the cheek, and this massive bodyguard blocked me. Prince was like, 'Hey, it's okay.' And he spoke very softly."
Prince had seen In the Heights and Spider-Man: Turn Off the Dark (in the latter, according to a source close to the show, he was particularly taken with lead Reeve Carney's voice). And just a few days before his death, Prince invited both the Color Purple and Hamilton casts to a party in the Meatpacking District which turned into an impromptu concert. Prince hadn't seen Hamilton yet — he'd go the following night, without staying after for the traditional selfie with Lin-Manuel Miranda — but still arranged for the cast to get emails with the party invite.
"We were all freaking out backstage — I lost my shit," says Jasmine Cephas-Jones (Hamilton's Peggy and Maria Reynolds). At the party, "we all kind of let go. We're doing eight shows a week — a lot of us don't go out that much. But I was like, standing on a couch with Renee [Elise Goldsberry] and Ari[ana DeBose], just dancing and living." Prince played a special set including "When Doves Cry," "Nasty Girl," and "The Most Beautiful Girl in the World." Then former Pussycat Doll Nicole Scherzinger, a friend of several Hamilton castmembers, took Cephas-Jones aside. "She was like, 'There's someone I want you to meet,' and it was Prince," Cephas-Jones says. "He seemed so grounded and so happy where he was at. He was wearing an orange suit, and his Afro was out."
It apparently wasn't unusual for Prince to extend himself to Broadway's leading ladies. In 2009, Vulture reported that Prince made a surprise appearance at a Tonys after-party after becoming smitten with West Side Story Tony-winner Karen Olivo. On the night in question, Olivo wasn't looking to stay at the party — she'd been sick and was losing her voice — but when she tried to leave, she was stopped by two different people, both citing Prince's imminent arrival as the reason. "Somehow during the telecast of the Tonys, he had found out where we were having our party and managed to introduce himself," Olivo says. "I was oblivious."
When she tracked down Lin-Manuel Miranda (who worked on West Side) and told him Prince was coming, "I remember Lin laughing at me and telling me, 'They're talking about my dad because he's in a purple suit.' I immediately felt like an idiot and promptly tried to board the elevator to exit." That's when Prince arrived. "He was very focused on me and held my hand a little too long when we met," Olivo recalls. "I was married at the time and accompanied by my husband, so out of respect for him I tried to downplay Prince's obvious intent."
Otherwise, Olivo says he was soft-spoken and asked how he could get tickets to West Side Story ("You're Prince, you can get tickets!'"). Later, she'd learn he'd already seen the show a few weeks earlier (West Side dance supervisor Lori Werner was one of his Diamonds and Pearls dancers), and he'd return another two times after the Tonys. "I also look a great deal like his ex-wife Mayte," Olivo says (it's true!), "so it did not surprise me when he kept coming back. But I've never been great with advances of that nature." Now she regrets not staying at the party for a Prince one-on-one. "I was younger, and if I'd had my head screwed on straight I would have stayed and picked his brain about music."
But perhaps the truest proof of Prince's theater cred was the attention he gave to offstage talent as well. In the early '90s, playwright David Henry Hwang read in People that Prince had seen his M. Butterfly. A few years later, he received an inquiry: Prince was interested in discussing a collaboration. "There was a long period when Prince was maybe gonna call, and then he did," Hwang says. "He had an idea first for a song — he wanted to include a spoken-word section in the middle of it, and he asked if I was interested in writing that. Of course, I said yes."
Hwang was only told the song was about loneliness. He faxed the text to Prince; a couple of days later, Prince FedEx'd a cassette of the fully produced song to him, with no spoken-word, but with Hwang's text incorporated into the lyrics. "I was surprised that it became this sort of ethereal kind of incantation, kind of a ballad with very sparse accompaniment — a little different from most Prince songs," Hwang says.
A few months later, Prince summoned Hwang again, this time to meet him at the Rihga Royal Hotel in New York (where Prince had a floor to himself). "He wanted to create a musical, based on I think a real experience with sort of an obsessed fan," Hwang recalls. "There would be a Prince–like character with a complicated fantasy sex-love relationship with this fan." Hwang went home to write a draft, but the project never came to fruition — in part because, as usual, Prince was conceptually ahead of his time.
"There was some uncertainty about whether he would play the part and it would become a kind of stadium thing, or someone else would play him — which at the time hadn't really been done on Broadway," Hwang says. "Now we have all these bio-musicals like Jersey Boys and Beautiful where someone else plays the star, but back in the early '90s, no one had done it." And that cassette? Prince wasn't one to forget a collaborator: About a year later, Hwang got a call from one of Prince's lead team members at Paisley Park. "She said, 'That song you guys wrote is going to be the B-side of Prince's new single,'" Hwang recalls. The single was "Let It Go," and Hwang's track was "Solo."
"We never had a contract, but the credit was 'Prince with David Henry Hwang,'" says Hwang. "He remembered I worked on that, and he honored it. Obviously, I was amazed."