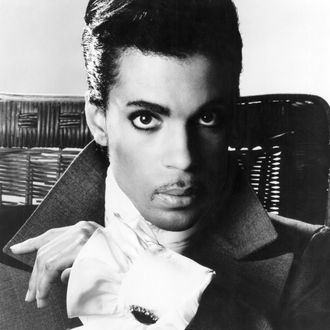 As first reported by TMZ and confirmed by the AP, Prince has died of unknown causes at the age of 57. The music legend was hospitalized in Illinois on April 15 after battling the flu for several weeks. He was released that same day and returned to his Paisley Park estate in Minnesota, where his body was discovered in an elevator early Thursday morning. Born Prince Rogers Nelson in Minneapolis, Prince's music career began when he was a teenager; he went platinum for the first time with his self-titled sophomore album, released when he was only 21. That album was remarkable not just for Prince's multi-instrumental gifts — he recorded and produced the whole thing himself — but also as an introduction to his open-hearted persona, as singles like "I Wanna Be Your Lover" and "Why You Wanna Treat Me So Bad" saw Prince presenting an emotional vulnerability rarely seen in pop music.
His next album, Dirty Mind, showcased the other integral side of the Prince image: sex. Posing shirtless on the album's cover in a pair of briefs, Prince pushed lyrical boundaries with explicit songs like "Head" and "Sister" — as Robert Christgau put it, "Mick Jagger should fold up his penis and go home." His two subsequent albums, Controversy and 1999, developed Prince's gender-remixing blend of rock and R&B, with the latter producing beloved singles like the title track and "Little Red Corvette." But it was 1984 that would prove to be Prince's annus mirabilis, as the flamboyant star starred in the semi-autobiographical film Purple Rain and (with backing band the Revolution) recorded the film's soundtrack album, arguably his greatest achievement. Though he faced fierce competition from Michael Jackson and Madonna (the three were all born in the Midwest within 18 months of each other), in 1984, it was fair to say that Prince was the biggest musician in the world.
Prince's prolific pace continued throughout the '80s: 1985 saw him release Around the World in a Day with little promotion; the following year brought Parade, his last album with the Revolution; the one after that brought Sign o' the Times, the favorite Prince record of everyone who doesn't put Purple Rain on top. (Singles-wise, these albums gave us "Raspberry Beret," "Kiss," and "U Got the Look," respectively.) He would scrap his next release, The Black Album, shortly before its release, thanks to his own ambivalence about its content; the album became a popular bootleg before finally being released in 1994.
Prince closed out the '80s with Lovesexy and the soundtrack to Tim Burton's Batman film, the latter of which produced the hit single "Batdance." (During this time, he also gave "Nothing Compares 2 U" to Sinead O'Connor, and played guitar on Madonna's "Like a Prayer.") In the early '90s, Prince's disputes with his record label Warner Bros. intensified, a battle that culminated in him changing his name to an unpronounceable symbol and releasing a string of albums in rapid succession. Once his Warners' contract was up, the artist formerly known as Prince celebrated his new freedom with the 3-LP set, Emancipation. Upon the expiration of his publishing contract with Warners in 2000, he returned to using his birth name.
Prince's prodigious work ethic did not let up in the last phase of his career: He released 16 albums in as many years, lit up the Rock and Roll Hall of Fame with a legendary guitar solo, and performed during a rainstorm at Super Bowl XLI, widely regarded as the best halftime performance ever. In his later years, he enjoyed poking fun at his reputation as an aloof genius, hosting the odd concert, appearing as himself in an episode of New Girl, and sending out a series of enigmatic tweets. Months before his death, he started work on a memoir. He was a lifelong vegetarian and became a Jehovah's Witness in 2001. He is survived by two ex-wives, Mayte Garcia and Manuela Testolini.