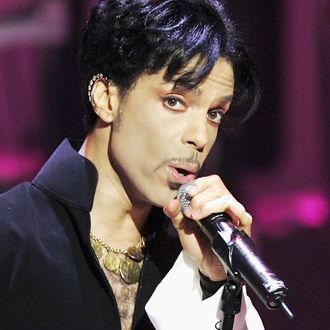 Prince.
Photo: Kevin Winter/Getty Images
NBC News, citing federal law-enforcement officials, reported on April 27 that the DEA had been asked to help local authorities investigate the death of Prince. The officials told NBC prescription painkillers were found in the late music icon's possession, but did not say whether or not the undisclosed medication played a role in his death. "DEA's role," Pete Williams explained on Nightly News With Lester Holt, "will be to determine such things as where the medications came from, and what prescriptions Prince had obtained." The news came two days after the Minneapolis Star Tribune reported investigators were focusing on Prince's alleged painkiller use. Prince's initial autopsy was completed one day after he was found unresponsive at his Paisley Park estate: There were no signs of trauma, and police ruled out suicide. The medical examiner's office said the rest of the results, including the final cause of death, wouldn't be made public for several weeks.
Update: The U.S. Attorney's office and the DEA are officially joining Prince's death investigation, according to USA Today, which notes that the federal law-enforcement agencies will "'augment' the local Carver County Sheriff's Office investigation with 'federal resources and expertise about prescription drug diversion.'" Jason Kamerud, chief deputy at the Carver County Sheriff's Office, confirmed the update Wednesday: "They have agreed to provide resources and expertise in our investigation."
This post has been updated throughout.