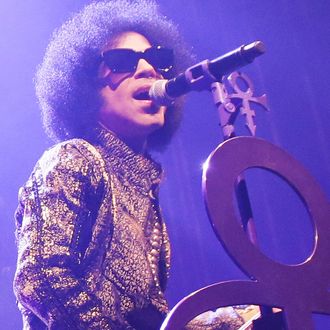 Prince.
Photo: Chelsea Lauren/2015 Getty Images
When the late Prince was hospitalized in Illinois six days ago, according to TMZ, he was treated for a drug overdose. "Multiple sources in Moline tell us, Prince was rushed to a hospital and doctors gave him a 'save shot,'" the site writes, "typically administered to counteract the effects of an opiate." (TMZ's unconfirmed update is not an official cause of death, and Prince's reps have yet to respond to it — they initially said he was battling a flu.) Prince then left for Minnesota three hours later because he couldn't get a private room, though doctors reportedly wanted him to stay for a full 24. His body was discovered in an elevator at his Paisley Park estate early Thursday.
Variety has published portions of the morning's 911 transcript: "People are just distraught," says an unidentified caller. "I don't know [how Prince died], I don't know." The Carver County Sheriff's Office told the media that it is still investigating the situation, and that a local medical examiner will conduct an autopsy.
Update: Last week's medical emergency was reportedly tied to Percocet, an opioid combo of acetaminophen and oxycodone used to treat moderate to severe pain. TMZ notes Prince had been using the medication for a hip problem, which stemmed from a previous corrective surgery. The singer's autopsy will be performed today.