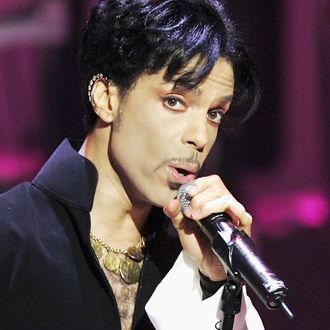 Prince.
Photo: Kevin Winter/Getty Images
Before Prince died, he left behind no known will, according to legal documents filed by his only surviving full sibling, Tyka Nelson, on Tuesday in Minnesota. The AP reports that Prince's sister is asking the court to appoint the corporate trust company Bremer Trust as special administrator to oversee Prince's estate in lieu of the will. That estate reportedly includes $27 million worth of property, though new reports suggest Prince had financial struggles prior to his death. TMZ reports that Tyka Nelson has also named Prince's five surviving half-siblings — John Nelson, Norrine Nelson, Sharon Nelson, Alfred Jackson, and Omar Baker — as additional potential beneficiaries to Prince's estate, meaning whatever wealth he had might be split between his six living siblings without knowledge of Prince's wishes. (Prince had no living children or spouse at the time of his death.) Is this Prince's final act of shade or a huge oversight? Sadly, the courts will get to decide how this one plays out.
Update: TMZ reports that a judge has confirmed Prince had no will and, on Wednesday, appointed Bremer as administrator of his estate, reportedly worth around $150 million. Prince's assets will be divided among his six surviving siblings.