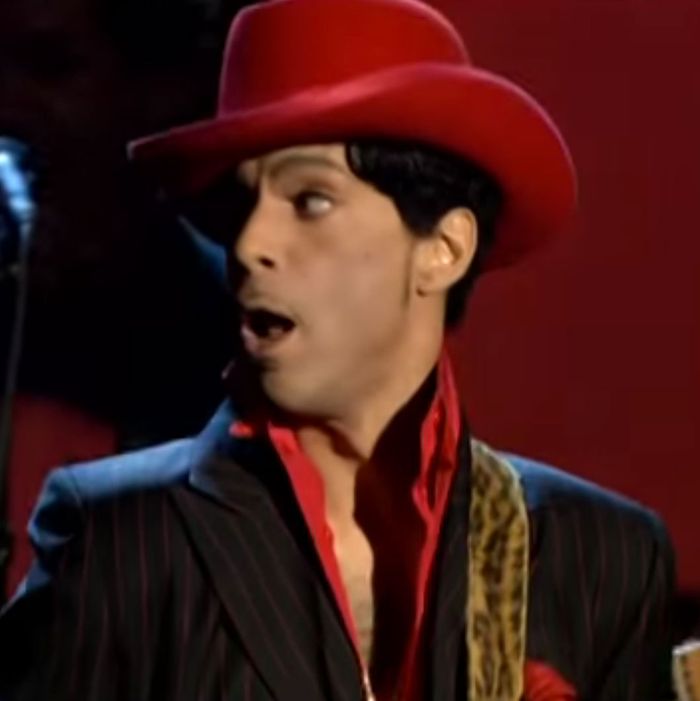 The Beatles' "While My Guitar Gently Weeps" is an easy song to solo to. It's the sort of song that young guitar players, like me, use to practice improvising. It's hard to mess up too badly. But for a guitar player like Prince — who is one of the greatest ever, who is somehow equal parts virtuosic and stylistically diverse — it's like giving a painter freedom to paint with all the colors in his palette. It was expected that he'd do a great job when he was asked to play lead guitar at the Rock and Roll Hall of Fame induction of George Harrison, in 2004, but no one could've expected what happened. "Best guitar solo ever" is a subjective claim, but this one should be in every single conversation.
Prince isn't even onstage for half the performance, but when he comes in, leading with a bent note in the dark before the spotlight picks him up, it's clear this is his show now. There are an incredible amount of guitar moves, each harder to put into words, each still surprising to this day. My favorite comes at the 4:04 mark, when he picks the high E rapidly, while alternatively fretting the note and leaving it open. I've never seen anything like it before or since, and have continuously practiced it for 12 years.
But that's not it; it's Prince. In my opinion, if he sat in a chair and played what he played, it still would be legendary, but Prince doesn't just sit in a chair. He does this:
The look on the face of George Harrison's son, Dhani, says everything.
Today I watch and I just love the faces. Prince is onstage with legends, performing in front of legends, and Prince smiles like he did when he knew no one could touch him. And they couldn't.
At the end, Prince does a few bends and the band finishes. All you can hear is the feedback of Prince's effects, as he takes his guitar off his shoulders and tosses it up in the air in front of him. He looks down to make sure his guy caught it, and then the camera follows him as he walks offstage in a way that says "My work here is done."