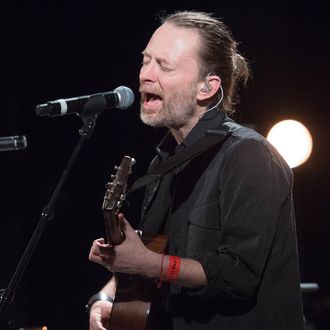 Thom Yorke of Radiohead.
Photo: David Wolff - Patrick/Getty Images
Man, remember the good old days, back when bands were bands, you could name rock songs after rabbit diseases, and people generally had a solid idea in their heads about when their favorite artists' albums were coming? Radiohead is bringing it back, all of it! Brian Message, who works with the band's management, was being interviewed in a pub Thursday, when he confirmed that, no, no one was fucking with you, the band really did have a new album on the way, out "in June," and it would be "like nothing you've ever heard." So it'll sound like Rudy Giuliani and and Thai athlete Teerasil Dangda discussing the HBO miniseries John Adams in the Slovenian town of Grosuplje, got it.
Update: Never mind about that "knowing for sure when the album will come out" thing. In a statement, Radiohead takes pains to distance itself from Message but doesn't actually say he's wrong: "Brian Message is not Radiohead's manager — he is a partner in Courtyard Management but plays no operational role, and therefore any quotes from last night's event, or any supposition arising from them, should not be attributed to Radiohead's management or be seen as official quotes on behalf of the group."