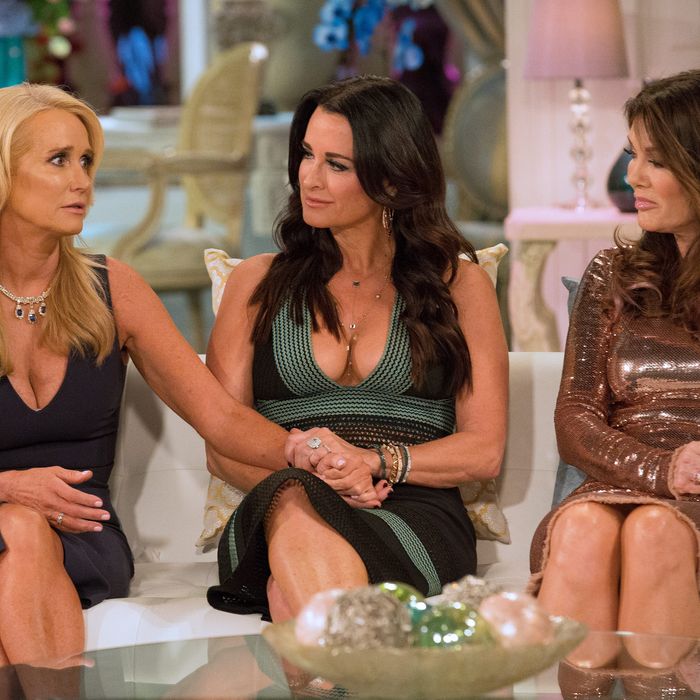 Kim Richards, Kyle Richards, Lisa Vanderpump.
Photo: Isabella Vosmikova/Bravo
There are three things that everyone who knows me well knows to be true: I will never say no to a slice of pie, I'm versatile (unless we're eating Mexican), and I hate writing about the reunion specials. I say it every year and I'm going to say it again now. I hate doing it because nothing happens. The women just sit on couches and shout recriminations back and forth. There is no story to move forward, there are no consequences to be had. It's just a rehashing of all the fights that we've just spent 20 episodes going over. After this drag of a season of the Real Miniature Donkeys of Grundle Canyon, I don't want to hear about these fights anymore.
Let's talk about something important, shall we? Let's talk about what everyone is wearing. Honestly, that is the only important decision these women make before showing up to supplicate themselves before Lord High Commander and Captor Andy Cohen so that they can have the honor of one more year of publicly demeaning themselves for a paycheck.
Lisa Vanderpump looks suitably Lisa Vanderpumpian in her spangley gold dress and her absolutely perfect and immovable hair. It's what you would expect from her, but there is something to be said for being on-brand. However, Andy Cohen notices it is the same Tom Ford dress that Erika had been wearing all season in her interviews. At that very moment, Lisa pushes a button in her handbag and her stylist's heart explodes. Ken will have to mop up her remains and feed them to the black swans in the fountain out front.
Speaking of fired stylists, Kyle should get rid of hers. What the heck is she wearing? It looks like she is finally dressed for the casual backyard picnic that she threw earlier this season, but back then she was more dressed up than she is here. She doesn't look bad, of course, but she looks like she's about to get sloppy on Bloody Marys, not go three rounds with Yolanda and Lisar on a soundstage. The convention for these events is to get as glam as possible and Kyle did not break with convention in a good way. (Hats off for the historical footage of Dana "Pam" Wilke and her $25,000 sunglasses, though.)
Meanwhile, Yolanda Bananas Hadid is giving us geometric-nude illusion to the max. I really liked this outfit, but I could have gone without the sheer bottom of the skirt. We're already seeing most of her legs. Why ruin the hemline with that gross, gauzy fabric?
I will bow down to the altar of Erika Jaynerardi forever because she is pretty much perfect. This is how you show up to a reunion looking both suitably glam and absolutely like yourself. No one else would dare wear a sequin number as boobalicious as hers and no one would wear a just-fucked wig. No, not a wig that makes you look like you've just had sex. A wig that Mikey, her number one gay, was actually making love to with his penis just moments before filming began.
The other couch was so odd and conservative and color blocked that, for a moment, I thought I was looking at the window display of a 1998 Caché. Lisar Rinna wears a dress that is both dowdy and too low-cut at the same time, which is sort of like being an annoying introvert. Don't tell her she's an oxymoron, though; she'll think it's a pill that someone is addicted to. That dress is the same color as every substance that comes out of a baby's mouth.
Don't you come for my dear darling Eileen! I know she has her haters, but I love that she's a fuddy-duddy and doesn't quite know how to dress. She looked great here. Well, at least her hair and makeup did. I don't think Eileen gets the credit she deserves for being one of the most naturally pretty Housewives. If she's had work done (or just Botox and fillers, because everyone except Malia Obama has gotten some Botox and fillers) it's very good work. The red dress, meh. I'll give her a pass.
Kathryn looks fine in her green dress, very simple and elegant, like Tory Burch going to meet her newest boyfriend for chicken paillards at the country club, followed by some heavy petting in a very expensive car. It's not a bad look. It's doesn't scream "Real Housewives reunion" to me, but then again, having your outfit scream about shoving the moderator of this banal panel of insanity while trying to poke out a prostitution whore's eye with a Lee Press-On Nail may not be the best message to convey.
I might have to reassess my feelings about Kathryn. I know, I know. I do this to every new girl. She shows up and I hate her and then I get to know her and I don't hate her that much. I think that Kathryn was definitely showing off for the cameras (not as badly as Jules on RHONY, but as per the rules of the Eileen Davidson Accord, I cannot talk about that for three more episodes), but that is not the worst sin in the world. What really did me in was how aggressive and awful she got during the dinner at Erika's house. She really has mellowed out since then.

It's also hard not to like someone who is gunning for Faye Resnick. I feel Kathryn's pain; it's hard to get dragged into such a huge media event, especially one that was so recently dragged back up for the public to see again like last night's curry. But did Kathryn have it really bad? Her name was in Faye's book just once, from what I can tell. Yeah, I know that's not great, but still. Does anyone want her to be Faye's best friend? No. Should she be? No. Let's put this in the past and get over it.
I loved that everyone didn't let Kyle get away with her "Faye isn't on the show, so we shouldn't talk about her" bullshit. Faye is on the show. She had to sign a release saying they could show her face. She knows what it is like to be in the public eye and to be scrutinized and if she didn't want to go through that again, she should have told Kyle, "This is your journey, you go on it without me." She did not. Just like writing that book more than two decades ago, it is something she did and she has to live with those consequences.
The MVP of this episode, of course, is Erika Jaynerardi, who gave a master class on puss patting. We will all be trying to do it in our living rooms and will look more like a #TwerkFail than the glamorous goddess that Erika is. Just like her new music video (girl, this set Tom back a bunch), Erika really does not give any fucks. She also doesn't play by the usual Real Housewives playbook. After Lisar equivocated for calling her videos raunchy, which is something that would have upset any of the other thin skins on those couches, Erika is just like, "Whatever, Lisar. You don't have to explain it to me. I was over it as soon as you said it." She can't really be hurt by anyone's opinion because the only opinion that matters is hers (and her husband's, and maybe her son's).
The best moment of the whole hour is when Andy asks Erika what the conversation is like when he gets the bill for her hair-and-makeup team. "There is not a conversation," she says calmly as a statement of fact and also the tagline of an Eartha Kitt song that was never recorded.
Look at that everyone, I got to the very end of the recap and I didn't even have to talk about Yolanda's stupid illness and everyone defending her Weeble of a husband leaving her when she was ill. I guess I'll have to talk about it next week. But Moooooommmmmm. I don't want to!