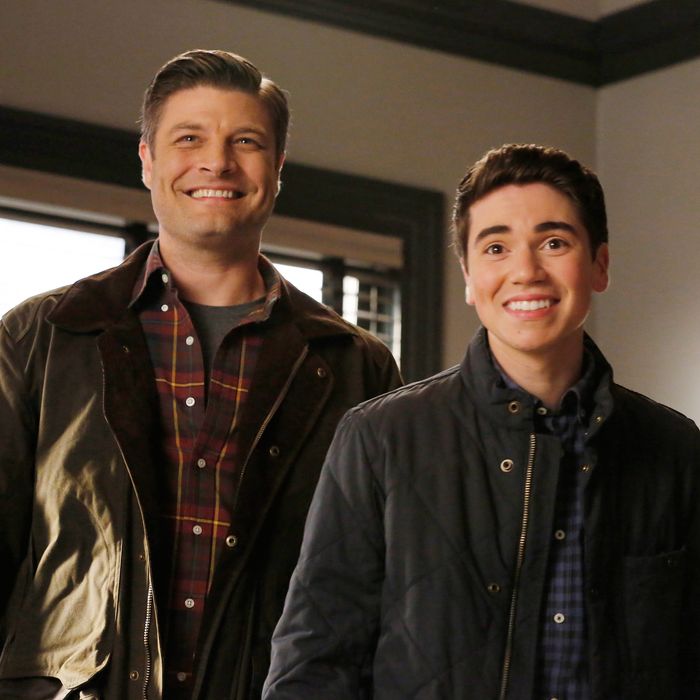 Jay R. Ferguson as Pat, Noah Galvin as Kenny.
Photo: Vivian Zink/ABC
The Real O'Neals must be swapping around the order of its episodes. "The Real Book Club" lacks the quick, fun pacing of "The Real Spring Fever" and moves from point to point rather matter of factly. References to Jodi's possible drinking problem get the most laughs, and the father-son bonding between Pat and Kenny is a close second. Although it's far from the strongest episode, it effectively shows how the O'Neals handle similar social needs in drastically different ways.
When Kenny joins the Gay-Straight Alliance at school, he's disappointed to discover he's the only gay person in the club. The other members are three girls, who pepper him with questions about being gay; he's understandably frustrated with always being the only gay guy wherever he goes. He's still struggling to find where he belongs.
Meanwhile, Eileen is trying to avoid too many connections with other people. She's even been going to the strange German grocery store, just to ensure she'll steer clear of the neighborhood women, who want to pry about Kenny's coming out and her pending divorce. She doesn't want to talk about her life, but finds herself backed into a corner when Jodi shows up for the monthly book-club meeting. (The family thinks Jodi is having one of her blackouts and start yelling to wake her up, but she's actually conscious … and right.) Eileen scrambles to get ready and sends the sources of the two topics she wants to avoid most — Pat and Kenny — out of the house.
There's another problem, though: Eileen hasn't read the book club's selection of Hillary Clinton's Hard Choices. Shannon has, and promises to keep the women on topic, but if that doesn't keep the group from gossiping about Eileen's family, Jodi will jump in with stories about her wild dating life. (One of Jodi's ex-boyfriends just told her he's not really dead, then asked her for a haircut. Talk about a ghost from the past.)
Typically, Pat and Kenny spend their time together watching NASCAR, but Kenny doesn't want to do that anymore. Since he's come out, he no longer has to pretend to enjoy stereotypically straight things — and NASCAR is at the top of the list. Pat appreciates Kenny's honesty, especially when Kenny shares his concerns that he can't find a place where he fits in. Pat suggests a coffee house called Rainbow Grind in Chicago's Boystown neighborhood. They're both excited about the visit: Kenny can't wait to be in a place where he blends in, and Pat is happy that he's getting a chance to bond with his son.
Whenever Pat gets excited about something, his enthusiasm is infectious. (In no small part because of Jay R. Ferguson's giddy performance.) He seems genuinely happy to be able to help his son find himself, and that's the true mark of a good parent. Although Pat may still be getting used to the idea that Kenny is gay, he never forgets that Kenny is still his son. Pat loves Kenny and wants to do whatever he can to look out for him. If that means going to a gay coffee shop, then he's going to a gay coffee shop.
At Rainbow Grind, Kenny suddenly becomes nervous. What if the people of Boystown judge him? What if he's not dressed right? Should he have hit the gym first? Thankfully, his fears go unfounded, and Kenny enjoys his time there. Pat runs into a former co-worker, Zach (Pat Finn), who came out and is going through a divorce. The two men bond over the end of their respective marriages and Pat asks Zach about other activities that might help Kenny fit in. Zach mentions gay dodgeball, and it's not long before Pat and Kenny decide to tag along.
Zach and Pat serve as captains of their teams, picking players. Kenny, wearing borrowed shorts, is the last one selected — even his own father wouldn't pick him. Pat's competitive nature takes over. He hits Kenny, sending him out of the game, and when Zach brings him back in, Pat tags him out again. Harsh move, Pat. Once again, Kenny is on the outside of another group, and to make matters even worse, his father is the one making fast friends. Kenny outs his dad as straight and Zach kicks him out of the game.
Much like Kenny, Pat needs a support system. And much like Eileen, he's facing upheaval in light of the divorce. If he's looking to forge connections, perhaps he'll have better luck at Divorced Dads Dodgeball? In the meantime, he promises to avoid steamrolling over Kenny's attempts at finding friends.
While Kenny and Pat become vulnerable enough to make new friends, Eileen tries her best to avoid vulnerability in her book club. Marcia, her arch nemesis, keeps bringing the discussion back to the O'Neal family issues, until Eileen finally cracks — yes, her son is gay, yes, she's getting a divorce, and yes, she hasn't even read the book. Marcia is initially smug, then the remaining women admit they haven't read the book either. As they all confess their problems, an irked Marcia leaves without exposing any of her own.
Eileen feels good about opening up, but the women just won't stop talking. They act like the book club has transformed into a therapy-session-slash-slumber party, and it drives Eileen nuts. She wants the genie back in the bottle. She and Marcia meet and decide to create a new book club — one that will be pleasant and distant. They assure each other that they're still enemies, and Eileen agrees to buy a salad from Marcia's sister's floundering salad-bar franchise to seal the deal.
It's an interesting conclusion to her story line. While Kenny and Pat are willing to open up emotionally to make new friends — which helps them navigate the new territory of their lives — Eileen can't handle too much vulnerability. It leaves her too exposed and creates a false sense of familiarity. When she let her guard down with the book club, it only led to more change. Her frenemy relationship with Marcia is one of the few constants in her life, so it makes sense that she'd latch onto it.
It's certainly refreshing to see "The Real Book Club" avoid tired story lines with Pat, too. It would've been easy — too easy — for the show to resort to cheap tropes when he brought Kenny to the coffee shop, and it's good that we didn't see that happen. The Real O'Neals continues to drive home the message that people who identify as LGBT are just like anyone else, as seen by the dodgeball players and patrons of Rainbow Grind, who are people of various shapes, sizes, and ethnicities. It's simply a human instinct to crave a sense of community, whether it's over an expensive cup of coffee, an ignored book-club selection, or a dodgeball to the face.