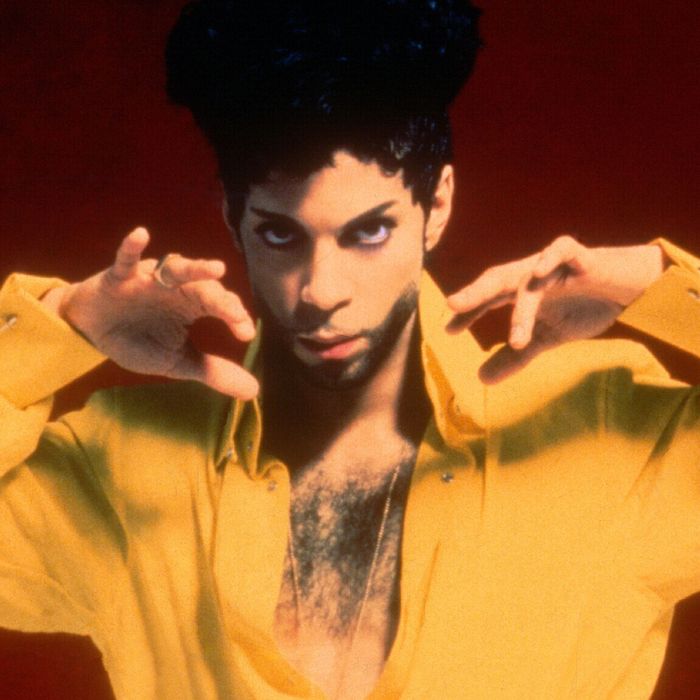 Prince, 1991.
Photo: Photofest
With the death of Prince, let's celebrate "this thing called life," as His Purpleness himself put it. For him it was inseparable from love — his second and most heartfelt subject — and from sex, his third and most lascivious. They were all part of the same thing. He was arguably the most crazily multitalented pop star we have ever seen: a singer, songwriter, producer, multi-instrumentalist, dancer, performer, and impresario of the first rank. He was also a dutiful actor, a worthy inhabitant of the Madonna-Kardashian-Trump ether of tabloid antics, a narcissist of dizzying dysfunctionality, a crank, and also, in the end — what's the word? — a presence. I remember being at a Warner Bros. convention, sitting at a big ballroom table with a bunch of cynical journalists. Prince walked by — tiny, in purple and high heels — and we all dropped our drinks. A few minutes later he was onstage rolling around on the top of a white grand piano singing "Nothing Compares 2 U." We all knew what he was trying to do to the piano. He was a fucker. No, I mean: a literal fucker. Beside everything else, he stood astride the world and fucked famously. He was the world's most advanced rock star.
When we first heard from him, it was with a falsetto love plaint that hit the top 40: "I wanna be your lover," he twilled; listen closely and you hear just a smidgen of a pause before the word lover, suggesting that it wasn't exactly the right term for what he had in mind. Turns out that when no one was paying attention, Warner Bros. had given a kid from Minneapolis a record contract, and creative control. He was on his second album, the self-titled Prince, with him all of 21. On the song, and the album, he'd played every instrument, done all the vocals, and produced, too.
Even after that, who could have predicted Dirty Mind, a marvelously titled tour through the windmills of his libido, all set to a sparse but irresistibly tuneful set of soul-pop tunes? The song "Head" isn't just what the title of the song suggests it is, though this is made quite explicit in the song. It's actually about something else. It's about this: Being so fucking sexy that a woman on her way to be married will take time out to give you a blow job. "When You Were Mine" details, in a remarkably good-hearted way, his travails with a lover who slept with all his friends and wore all his clothes to boot. And as for "Sister," well, among other Prince Family Values the song starts with incest and proceeds into S&M and other fun topics. (Is his sister really pimping him out?!?)
That album, with Controversy, represented his maturation. His mastery of the studio was plain, but the releases also had something of a demo feel. We then enter the realm of Prince the Superstar, master of everything. 1999 at once expanded his sound and tempered his lyrics. I think even a Prince fan will attest that it was one of those double albums that in its entirety does not live up to the promise of its first side. But anyone with a brain to think and an ass to shake will recognize that that first side — comprising the songs "1999," "Little Red Corvette," and "Delirious" — represented something like the apotheosis of brainy pop, rock, soul, and funk to that point.
Then came Purple Rain. What can we say about this singularly eccentric, thrilling, and (it must be said) occasionally hateful album 'n' film sensation? It's a B movie, let's not forget, directed by his manager, and nonetheless largely sublime. There are also some pretty skanky scenes — like when the woman is thrown into a Dumpster, like when Prince punches Apollonia — but there is also something in it understanding and aware about the degradation of such activities. ("Maybe I'm just like my father," Prince sings, a line we'd never heard before in rock.) And there is, amid the melodramatic plot and amateurish filmmaking choices (no performance of "When Doves Cry"?), something joyous and innocent.
And then we entered the realm of Prince the Goof, putting out an album a year, dispensing amazing tracks ("Kiss," "Raspberry Beret" ), and, yes, more amazing tracks ("Pop Life," "Alphabet Street"), amid weird movies (Under the Cherry Moon, Graffiti Bridge), aborted projects like the fabled Black Album, stopping only to concoct a double-album masterpiece, Sign o' the Times, still today his most full-bodied, consistent, and playable release. His shows at a certain point became almost too good: hours of medleys, stop, starts, U-turns, set pieces, and rave-ups.
There were lots of antics, too: fights with Warner Bros.; changing his name, for a time, into an unpronounceable glyph; stepping up album production to ridiculous levels to spite the label; and later obsessions with file-sharing. Too many of his later-period albums were inferior, and his shows sometimes descended into long jams, impressive indeed to funk fans, but in a certain way audience-unfriendly. Later, he righted himself, got his act back together, and started delivering more normal and magnanimous shows; at Coachella in 2008 he wowed the crowd with a sensational performance, including a spectacular cover of Radiohead's "Creep."
(While Prince had his people scrub YouTube of his music as comprehensively as he could, other things slipped through. If you want a sense of how great he was as a guitarist, check out this clip from one of those all-star Rock and Roll Hall of Fame circle jerks. [He's even got me doing it.] The fun starts at about 2:55.)
"I used to be a role model … ," Prince claimed a few years ago, on one of his better later tracks. Just when you raise your eyebrows, you can hear him rethink the assertion himself: " … I don't know." I won't forget the guy who — when folks like Michael Jackson, Madonna, and Springsteen were wandering around — could lay claim to mattering more, going deeper, writing better songs, being a better pop star. Prince always cracked me up. I don't know if it's true or not, but I remember reading once that Prince called his, ah, Little Prince "Valentino," and slipped reference to it into a song he wrote for the Bangles. ("I was kissing Valentino by a crystal-blue Italian stream," Susanna Hoffs sings.) When you're talking about a guy with a mind like that, you see sex everywhere. Think of the last moments of his first movie. Prince jumps up on an amp, grooving through a solo, and spins around, his guitar suddenly spewing liquid all over the audience. Given what guitars are usually considered stand-ins for, and Prince's single-minded sexual obsession, this is, I think, what you'd call a single entendre. He stepped into stardom blessing us with his kinky idea of Holy Water. And, let's face it, we all got caught in that burst of the once and forever Purple Rain.
Follow Bill Wyman on Twitter at @hitsville.