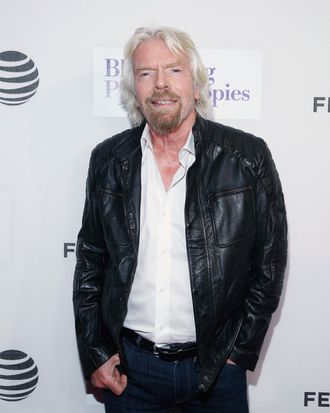 Photo: John Lamparski/Getty Images
What do Richard Branson's home videos look like? Like him flying across the Atlantic Ocean in a crazy massive hot-air balloon, is what. Last week at the Tribeca Film Festival, the madcap $5.2 billionaire and Virgin Group founder debuted a documentary, Don't Look Down, about his pursuit of world records for ocean- and globe-crossing in boats and balloons, with intense home-shot footage of the many times he almost died.
It seems like a fitting lead-in to what Branson hopes will be the launch of commercial space travel in the next two years with Virgin Galactic (which hasn't had the smoothest track record thus far). We chatted with the 65-year-old Brit about American politics and his two favorite kinds of getting high — like, actually going into the air in spaceships and hot-air balloons, and smoking weed with Peter Tosh. Here are 14 things we learned.
We may see commercial space travel as early as next year.
Branson has said he'd be "astounded" if Virgin Galactic doesn't take off in the next two years, but it sounds like it might be even sooner. When I asked him if he planned on hot-air ballooning next year, he replied, "Next year, I think it's more likely to be the space trip." Just how close is everything to completion? "The spaceship has just been unveiled, beautiful. And now it's going through its tests," he said. "If and when it passes all its tests, hopefully with flying colors, we'll be up, up, and away. I'm not giving dates, but the team are working diligently in getting it right."
He can neither confirm nor deny that Leonardo DiCaprio will be on the first official flight.
"I think so. I'm not sure," he said about Leo's attendance, stoking the anxiety of some sure to be seriously pissed off gazillionaires, who've paid almost $5 million at amFAR auctions in Cannes over the years to get a seat on Leo's spaceship — and pay witness to his zero-gravity Titanic reunion with other rumored space traveler, Kate Winlet (who's married to Branson's awesomely named nephew, Ned RocknRoll, and who once sort of saved Branson's mother from a fire). "We've got about 700 people signed up and they've been pretty committed," Branson went on. "Some of them have been signed up for as long as ten years since we started the program. But we're not too long now, I think."
The reason he's most excited to go to space is because it's fucking space!
"I think that's the reason most people want to go to space," said Branson, laughing. "There's a wonderful book called The Overview Effect, by Frank White, which is interviews with all the people who've been to space and looked back on our Earth and our planet. And it's so inspiring to read. I've seen the iconic picture of Earth from the moon and I want to experience that myself if I can in my lifetime. And I want to enable, hopefully, tens of thousands of other people to have that experience in their lifetimes as well." Oh, and he also wants to put up a bunch of satellites to connect the half of the world's population currently without internet, and get rich people from L.A. to Tokyo in an hour.
Brits can't vote here, obviously, but if he could, it's a pretty safe bet that he wouldn't be voting for Trump.
"I'm not going to talk about specific people," Branson said, disappointingly, when I asked about the 2016 election, "but I would dearly love to have somebody be in the White House who's all-encompassing and genuinely cares about this world we live in and somebody that, as the Pope said, 'builds bridges, not walls.' Because it'd be terrible for America to go inward with inward thinking and to start treating people in an abysmal way." Branson recently declared war on the War on Drugs, so how does he feel about Trump's proposal to make Mexico pay for an actual 1,000-mile wall along its border with the U.S.? "That's not the way to deal with people who've got drug problems," he said. "If my children or sisters and brothers had a drug problem, I'd want them to be helped. Anyway, putting walls up is not going to make an iota of difference." So yeah, not a Trump man.
Don't think he's feeling the Bern, either.
Are banks evil? "Banks certainly caused a problem during the financial crisis of 2007, but they're not generally the problem," he said. "They caused a problem, and it was very painful for the world, and they deserve to be criticized for it, but it's far too simplistic to start thinking that banks are the main problem in this world." He does sound like he will miss our current POTUS, though. "President Obama, to have somebody of that intellect, somebody that people feel has got moral standards, in the White House is tremendous. I hope America appoints someone of that sort of caliber."
You can probably guess what his party affiliation would be, though.
"Specifically, on environmental issues, there's no question," he said. "The Democrats, by and large, understand that the world has a problem, whereas some of the Republicans bizarrely don't. So, for somebody who lives overseas, it is completely and utterly bizarre when 99 percent of scientists say one thing and then you get some Republican politicians still with their heads in the sand."
And he'd probably live in Colorado or Oregon; he's way into marijuana decriminalization.
Branson is part of a global drug commission urging global governments, and America in particular, to treat drugs as a heath issue rather than a criminal issue. "The War on Drugs has been an abject failure for 60 years," said Branson. "It's caused untold misery. It's filled up America's prisons, it's created AIDS and HIV and thousands of hepatitis deaths. It's created an underworld, and it's put $390 billion a year into the underworld's hands. It's been an abject failure."
He's lost count of how many times he's almost died.
The first time Branson tried to set a world record, with the fastest crossing of the Atlantic by boat, in 1985, he capsized and had to be rescued by helicopter from the middle of the ocean. Then there's the time, two years later, when the hot-air balloon he was using to cross the Atlantic started rising on its own, deflating just before reaching the total implosion point of 44,000 feet. And oh-so-many more. "Fortunately, I've been through my nine lives," said Branson. "So I know I don't have that horrible ninth one to go." He does, however, get flashbacks to all those times he almost died. "I used to," he said, and then they stopped, "and then I made the mistake of making this film, and I'm now getting them again."
And even after all that, he still wants to try to circumnavigate the globe by balloon.
Branson tried to balloon his way around the world in the mid-'90s, but gave up after Bertrand Piccard and Brian Jones completed the feat before he could. Still, he's itching to get back up there. "Would I do it again? I suspect the answer's yes," Branson said. "Once we've got the space thing out of the way, yeah, one day we'd like to finish the job."
Can you blame him? He does make high-speed hot-air ballooning sound pretty unmissable.
"When it goes well, it's just breathtaking to be up crossing K2, some of the biggest mountains in the world," he said. "Going all the way down the Himalaya chain was completely and utterly breathtaking and there are few people that have experienced it. I love adventure and ballooning is one of the ultimate adventures of all, particularly when you fly at that sort of height and those sorts of speeds. It's very quiet and this massive glass dome we had — the views out of it are all 360 degrees of stunning. It's fascinating how beautiful this world is that we live in. Everybody lives in these cities, so there are these vast amounts of unspoiled land and then you see a batch of lights. It does illustrate, fortunately, how much of the world is untouched and pristine and beautiful and worth protecting."
Want to set your own world record for something? Branson says it's super easy.
Here's his advice: "I think if you want to try to achieve something that's not been achieved before, you've obviously got to have the idea — the vision of what it is you want to achieve — and surround yourself with really good people to help you bring that dream into reality. And you need to ask lots of questions and hopefully you'll get to the right answer at the end." Piece of cake!
He's sorry you miss his Virgin Megastores, but you've got to give it up.
"It was a lovely era," he said, "but the industry is obviously different than when I was in it, and I think we were just lucky getting out of it at about the right time, I think." Recorded music, he said, is never going to recover, but concerts aren't a bad investment. "Live music will continue forever and it's gotten stronger and stronger and stronger."
Kanye West's endless tweaking of The Life of Pablo is Branson-approved.
"If somebody wants to change the tracks on their album after they've published, why not?" he said. "We may well change this film after it's published. Who knows?"
Oh, and there's that time he got super high with Peter Tosh (and, let's face it, probably a lot more times after that). It sounds amazing.
Branson lives in the Caribbean and mostly listens to older reggae music like the Gladiators and the Abyssinians, which reminds him of the time he sat outside of Peter Tosh's house in Jamaica trying to persuade him to sign to Virgin Records just after leaving Bob Marley and the Wailers. "After three days, [Tosh] lets me in," said Branson. "And he has these pots of ganja and these spliffs he rolls, which are this big." Branson mimes something the size of a small baguette. "And he then puts me through three hours to see if I will survive that. Finally, he agrees to sign with Virgin, and the first record he brought out was Legalize It, which became the anthem for [legalization]. So, very appropriate." Just how stoned was Branson after those three hours? He laughs. "I was lying flat on the floor!"