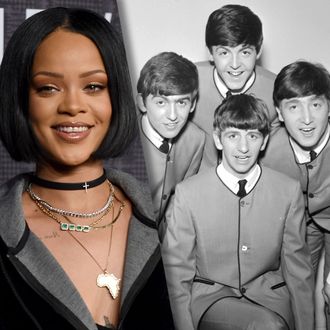 Let that Rihanna reign last forever.
Photo: Getty Images
Get back, Beatles, another diva has left you in the dust: On this week's Billboard Hot 100 Rihanna has officially surpassed the Beatles for second-longest cumulative weeks at No. 1. "Work," featuring Drake, is once again the No. 1 song in the U.S., having scored its ninth week in that position, which gives her a total of 60 weeks spent at No. 1 in her career. She tied the Beatles last week at 59, but has now set a new record. (Fun fact: Rihanna's first week at No. 1 came in May 2006, for "S.O.S.") The leader, for now, remains Mariah Carey with 79 weeks, which she could easily extend if yet another hit ever comes along. "Work" also gives Rihanna her second-longest No. 1 streak, just behind "We Found Love" at 10 weeks. Desiigner's "Panda" could pose a threat to Rih on next week's chart, however, as The Life of Pablo sample has risen to No. 2 this week, having topped the streaming chart. (And that's without an official video, which has apparently already been filmed.)
Justin Bieber and his unyielding chart presence also made history this week: With "Love Yourself" at No. 8, Bieber has now broken the record for most consecutive weeks in the Top 10 for a song since its chart debut, with 22 weeks. It's a record he previously held at 21 weeks with his own Purpose hits, "Sorry" and "What Do You Mean?" — which tied him with Maroon 5's "Sugar" and Nicki Minaj's "Starships." Both he and Rihanna can now say they've bested the Beatles — last year the Biebs broke the Beatles' and tied Drake's record for most simultaneous songs in the Hot 100, with a ridiculous 17 Purpose songs charting at the same time. Further proof that the Beatles should've maybe stuck it out for a few more albums, you know, for insurance.