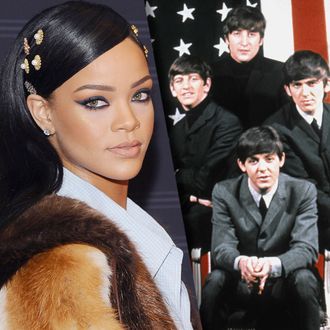 And you love them.
Photo: Getty Images
When you think Rihanna, you automatically think of the Beatles, right? No? Well, start doing that because, aside from working with Paul McCartney himself, she has also now tied one of their records: On this week's Billboard Hot 100, Rihanna and Drake's "Work" has landed its eighth week at No. 1. That news might not immediately sound special, but eight weeks in the top slot puts Rihanna on par with the Fab Four. With "Work" again in first, she's now accumulated 59 weeks at No. 1 — the same as the Beatles. All she needs is 20 more weeks there, and she'll match Mariah's record of 79 total weeks at No. 1.
She also only needs six more No. 1 songs and she'll be in the history books for tying the Beatles' all-time record of 20 No. 1 songs. Rihanna, by the way, is only 28. And when he's not busy ruling the charts with his work wife, Drake also has two new songs on the chart: "Pop Style," featuring Kanye West and a few words from Jay Z, has debuted at No. 16, while the summer-ready "One Dance" enters at No. 21.
But perhaps the biggest news from the music charts besides Rihanna comes from the previously little-known turned ubiquitous Brooklyn rapper Desiigner, whose viral hit, "Panda," broke the Top 10, making a huge leap to No. 5. That's likely due, in part, to the fact that this week's history-making Billboard 200 chart leader, Kanye West's The Life of Pablo, is now streaming everywhere. "Panda" is heavily sampled on Kanye's "Pt 2" and appears to be the breakout hit from Pablo despite being its own separate song. (Only Pablo's "Famous" and "Father Stretch My Hands" have charted so far, at No. 34 and 37, respectively.) Desiigner is also the newest signee to Kanye's label, G.O.O.D. Music, so prepare to think you're listening to Future a lot more than you actually are over the coming months.