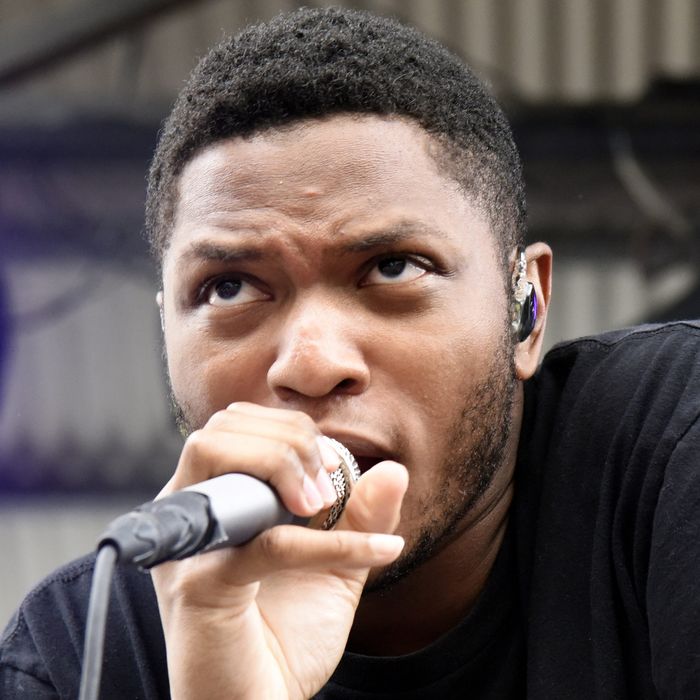 Gallant performs at SXSW.
Photo: Tim Mosenfelder/Getty Images
Even before we touted Gallant as one of Vulture's 20 Musicians You Need to Know in 2016, he was on the fast-track to becoming a name already on everyone's radar. Last year, at the onset of Apple Music's debut, Zane Lowe chose Gallant's breathtakingly sung "Weight in Gold" as the first World Record to premiere on Beats 1's inaugural show. Having since gone viral off that song — performing with both Sufjan Stevens and Seal along the way — the 24-year-old Maryland native has amassed an online following that has praised him as the next acclaimed voice in R&B, a catch-all even he finds a bit reductive for what he's trying to accomplish. "There's some racial undertones with the R&B label, always has been," he tells Vulture over the phone from SXSW. "That influences how to label a sound, or write it off."
But if labels still function as a necessary reference point for the uninitiated, it's better to think of his sound as simply human. His debut album Ology, out now, formed after depression drifted him away from New York City to Los Angeles, toward a familiar feeling of life in the suburbs where he could face himself and his most guarded emotions. "I wanted to make sure I wasn't regressing, in terms of becoming a better human," he remembers of feeling disoriented prior to making Ology. "It just felt like I was studying for something with no tools to know what the direction was. But it all seemed to be under the umbrella of some kind of apology." To get back on track, he revisited the sounds of his youth that got him here in the first place. Below, Gallant walks us through five songs that helped inform Ology.

Janet Jackson, "I Get Lonely"
"There's plenty of Janet Jackson songs, but that one in particular, the way she starts it — it's very bare. Her voice kind of warbles a little bit, and that just adds to the overall sense of vulnerability, honesty, and humility that the lyrics pose. Sonically, production-wise, the way it comes in and stops at random parts makes it feel almost religious. [Producers] Jimmy Jam and Terry Lewis are incredible, mainly for the work that they did with Janet. It was always very collaborative and something special going on. And that connection between artist and producer is obviously something I value too, which is why I worked with only one producer for this project. It helps to really get into that mindset. I first heard 'I Get Lonely' way back when I was really young and I've been obsessed with it ever since."
Joe, "I Wanna Know"
"That was a favorite of mine from before I even knew what the song was written to do. It just has that very anthemic, hymnal type of melody that bleeds with the honesty with which it was written. I think Joe's extremely underrated. The way he delivers his lines really inspired me during my vocal growth and growth as an artist in general. I really wanted to try and pull from that, which I think I did — or tried to do — with 'Open Up,' which is on my album. And Joe's still doing it, too. He's come out with a couple other albums that I thought were great. I saw him live, so I got to cross that off my bucket list."
Prince, "Little Red Corvette" or "Kiss"
"I could say a lot of Prince songs, but 'Little Red Corvette' and 'Kiss' had a lot of influence, for two reasons: Production-wise, the way that the guitars and the drums are in such a specific pocket, rhythm, and pattern that he pioneered himself makes it worthy. The synths kind of sit and play with those instruments in a way that, at the time, just felt really fresh. It's something I wish I could try to emulate with different cultural references from this time period. But I think it sounded uniquely him and something really special, to the point where if you draw from that or sample that, it's obvious you're sampling Prince or drawing from Prince. I don't think that's an easy thing to stake your claim on and he definitely did it. Also just vocally, the way he plays with it — it's almost like a cartoon voice. Bilal does the same thing: Doing bold things with his voice, namely his falsetto, that almost seem silly. But to Prince it just seemed to fit and, to everyone else, it oozes this charisma and confidence. There's a couple records on my album where I reminded myself of that approach when I was laying down the vocals. I'd say with 'Bourbon' and 'Bone & Tissue,' I tried to overstep my confidence and just let go as much as possible and not worry about being self-conscious."
Brandy, "All In Me"
"This is a little bit later Brandy — it's off her Full Moon album, and Darkchild [Rodney Jerkins] did all the production. The way that it hits, it's just like a cacophony of sound. The chords are changing every second, so many instruments are coming in and out, and the low end is dominating the whole mix. At the beginning of my album, I was definitely drawing from a lot of Darkchild influences, especially the single 'Talking in Your Sleep,' which isn't on the album. There's a lot of stuff in that same vein of hard-hitting weird chords that are changing [at a rate] that's almost too fast to keep up with, if not in tempo then just melodically and rhythmically. There's something special about 2001–2003 that just kind of died after that. I was really fascinated by that [era] and think it deserves praise."
The Crystals, "He Hit Me (and It Felt Like a Kiss)"
"Carole King wrote it and Phil Spector produced it. Lyrically, it's fucked up. It's so oddly dark that you almost try to find some kind of metaphor in there, but it's a pretty straightforward domestic violence situation. Melodically, it sounds like a nursery rhyme, the way they keep repeating the same phrase over and over, it just feels oddly joyous. But because of the nature of Phil Spector's production, it obviously sounds like the apocalypse at the same time. And there's a great string section there, too. The way that that came together was really special for me. I remember when I was in the studio, I tried a cover of that song that I'm never gonna release because it was for fun. Then right after, I started this a cappella, really slow song that eventually morphed into a track that I produced myself and ended up putting some strings on it. And it's 'Chandra,' the last song on my album. Lyrically, it digs into the darkest periods that I could pull out — trying to be even more vulnerable than I am on the other songs. But melodically, I tried to be almost Disney, give it a fairy tale vibe. That's one of my favorite songs on the record."
Stream Gallant's Ology below.